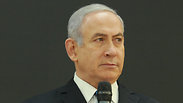 Prime Minister Benjamin Netanyahu
Photo: Orel Cohen
Experts say no new information in Netanyahu's Iran presentation
Former National Security Advisor Prof. Uzi Arad says the prime minister failed to present a 'smoking gun' exposing a current violation of the nuclear agreement with Iran; former Mossad official Gad Shimron slams Netanyahu for presenting information on prime-time television, possibly endangering Mossad agents' lives, instead of sharing it directly with US President Trump.
Prime Minister Benjamin Netanyahu's press conference Monday has become the talk of the town among former Mossad officials and Israeli experts on Iran. Most of them were impressed by the intelligence achievement, but less by what it contained.

In fact, some of them say that while Netanyahu's performance was perfect, it lacked one thing: Proof of a current violation of the nuclear agreement by Iran.

"As a former operations official, I take off my hat to those who obtained this information," former Mossad official Gad Shimron told Ynet. "Obtaining your biggest enemy's archive is an amazing operation by the Israeli intelligence community, but it's not something that should be shared with the public."

After praising the Mossad people, Shimron went on to harshly criticize the prime minister and "the very unsuccessful use of the information by a politician disguised as a salesman or a salesman disguised as a politician.

"It's a disgrace to present this information on prime-time television," Shimron added. "There's no way of knowing which Mossad agent he endangered by doing that. If you have information, you must share it with your allies, and even then you must do a thousand tricks to avoid exposing the source."

Shimron said he had discussed the issue Monday night with former Mossad colleagues. "They were shocked by the aberrant use of this information. If Netanyahu wanted (US President Donald) Trump to see this information, he could have shared it with him through the acceptable channels."
'Iranian interest is to avoid a war with Netanyahu and Trump'
Dr. Soli Shahvar, founding director of the Ezri Center for Iran and the Persian Gulf and a scholar of Iranian studies, said that the information presented Monday had the power of influencing Washington, but not Tehran.

"The Iranians certainly didn't know that the files had been taken by Mossad people, and it's possible that they only found out today who stole them. But apart from denials and saying that it's an old program which no longer exists, I don't think they'll do anything."

According to Dr. Shahvar, the Iranians will probably focus their efforts now on denying the information ahead of May 12, when Trump announces whether he is pulling the US out of the nuclear agreement.

"They will likely say that it's an Israeli provocation," he said. "I am certain that there are a few Revolutionary Guards commanders who are trigger happy and will won't to take revenge, but there is a council and there is a balance between the different streams there.

"At the end of the day, the Iranian interest is to avoid a war with a militant Israeli prime minister and a militant American president."

Researcher Roee Kahanovitch agrees with most of his colleague's remarks. "Netanyahu's comments," he believes, "are aimed at convincing the Europeans and Trump to walk away from the agreement. As far as the Iranians are concerned, his presentation isn't surprising and these aren't things we didn't know."

According to Kahanovitch, "The Iranians see themselves as a regional power. They have turned Syria into their backyard, where they develop the weapons."

Like his colleague, Kahanovitch is also skeptical regarding a direct Iranian attack on Israel. "Their air force is extremely outdated, but I imagine there will be a response, possibly abroad or in the Golan Heights."

Former National Security Advisor Prof. Uzi Arad believes "there was no new information here that wasn't known before.

"If the intention was to create a justification for quitting the nuclear agreement in the form of a 'smoking gun' exposing a current violation of the agreement's components, he would have definitely dropped a huge bomb. In practice, however, there was nothing new in the presentation. It included historical things and no proof of an Iranian offense or violation of the agreement since it was signed.

"I don't know what Netanyahu wanted to achieve. He may have wanted to shine a spotlight on the fact that the Iranians lied blatantly in the past. But since there is a global anticipation for Trump's decision in the coming days, Netanyahu wanted to illustrate that Iran is working to produce weapons and that it lied about it in the past as well."