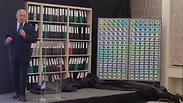 PM Netanyahu
Photo: Roi Idan
PM presents 'conclusive proof' Iran lied 'big time' about nuclear weapons program
Netanyahu presents massive archive obtained by Israel in 'great intelligence achievement' which he says proves Tehran has for years been developing the bomb, despite 'terrible agreement' 'based on lies'; says he's sure President Trump will 'do the right thing' on its fate.
Prime Minister Benjamin Netanyahu revealed Monday evening what he said was "conclusive proof" of a secret project underway in Iran for the development of a nuclear weapon—evidence that he said proved that Tehran had lied "big time" to the international community.

"Tonight we're going to show you something that the world has never seen before. Tonight, we are going to reveal new and conclusive proof of the secret nuclear weapons program that Iran has been hiding for years from the international community in its secrete atomic archive," Netanyahu told an audience during what he said was a "significant development regarding the nuclear agreement with Iran" at the Kiryah military headquarters in Tel Aviv. "We're going to show you Iran's secret atomic archive."

Netanyahu reveals 'conclusive proof' of Iranian nuclear weapons program (צילום: רועי עידן)

Israel had obtained, he said, in a "great intelligence achievement," secrets comprising a giant trove of documents and digital information pertaining to Iran's clandestine Amad nuclear weapons project whose goal was "creating nuclear weapons"

The evidence, Netanyahu posited, prove "Iran has been hiding for years from the international community" its nuclear weapons development program.

The prime minister, who delivered the speech in both English and Hebrew, began by presenting his listeners with three separate excerpts from past speeches by Iran's Supreme Leader of Iran Ali Khamenei, President Hassan Rouhani and Foreign Minister Mohammad Javad Zarif in which the three denied in international forum any intentions to obtain a nuclear weapon.


"We didn't have any plan to develop nuclear weapons," Zarif is heard saying in a recording played at the beginning of the speech, to which Netanyahu responds: "Well, tonight I'm here to tell you one thing: Iran lied, big time."

Two years after the signing of the nuclear agreement, Iran "intensified its efforts to hide its secret files" by moving them to the Shorabad district in Tehran in a "highly secret location" where the Shi'ite regime kept its atomic archive, Netanyahu said while pointing to an encircled picture of the site on a screen behind him.

The site, "an innocent-looking compound", contained Iran's secret atomic archives locked in "massive files," the prime minister said.

"A few weeks ago, in a great intelligence, Israel obtained half a ton of the material inside these vaults, and here's what we got: 55,000 pages, another 55,000 files on 183 CDs.

"Everything you're about to see is an exact copy of the Iranian original material," he told his listeners, before detailing the intricate details surrounding the weapons program.

'We've shared this material with the US and the US can vouch for its authenticity," he continued. "

Reaching the conclusion of his speech, Netanyahu slammed the fact that the Iran nuclear deal has been signed to begin with.

"The deal is based on lies. It is based on Iranian lies," he said, describing it as "a terrible deal. It should never had been concluded."

Netanyahu concluded by addressing upcoming May 12 deadline during which US President Donald Trump will decide whether not to withdraw from the deal. "I'm sure he'll do the right thing."

Shortly after the presentation, Iran's state-run IRNA news agency said Netanyahu is "famous for ridiculous shows." The semi-official Fars news agency, believed to be close to the Revolutionary Guard, dismissed Netanyahu's speech as a "propaganda show."

Iran has denied ever seeking nuclear weapons.

Speaking in a news conference after Netanyahu's presentation, Trump said, "You know in seven years, that deal will have expired and Iran is free to go ahead and create nuclear weapons."

Trump declined to say whether the United States would pull out of the nuclear deal before a May 12 deadline for a decision, saying: "We'll see what happens."

Trump also told a White House news conference the nuclear deal was "a horrible agreement for the United States". He said it would let Tehran develop nuclear arms after seven years and had "proven right what Israel has done today" with Netanyahu's disclosures.

"That is just not an acceptable situation. They're not sitting back idly. They're setting off missiles, which they say are for television purposes. I don't think so," Trump said, adding, "That doesn't mean we won't negotiate a real agreement."

Netanyahu spoke by phone with Trump over the weekend about Iran, according to the White House.

A statement on Sunday said: "The two leaders discussed the continuing threats and challenges facing the Middle East region, especially the problems posed by the Iranian regime's destabilizing activities."

Netanyahu met in Tel Aviv with new US Secretary of State Mike Pompeo on Sunday and both spoke in strong terms about Iran.

"We remain deeply concerned about Iran's dangerous escalation of threats towards Israel and the region," said Pompeo at a joint press conference.

Netanyahu told Pompeo that "I think the greatest threat to the world and to our two countries, and to all countries, is the marriage of militant Islam with nuclear weapons, and specifically the attempt of Iran to acquire nuclear weapons."

Trump has threatened to withdraw from the 2015 agreement reached between Iran and global powers, which granted Tehran relief from economic sanctions in return for curbs to its nuclear program.

Israel has long opposed the agreement. Washington's major European allies have urged the Trump administration not to abandon it and argue that Iran is abiding by its terms.

Iran is the foremost Shi'ite Muslim power in the Middle East. Israel has courted better ties with Sunni Muslim Arab states that also oppose Iranian influence.

Earlier Monday Israeli lawmaker Michael Oren, a deputy minister in Netanyahu's office in charge of public diplomacy, accused Iran of using the nuclear deal to help it "systematically" cleanse Syria of Sunni Arabs, and replace them with Shi'ites.

"One of the ways they are able to do this is through the Iran nuclear deal, which provides them with both the cash and the legitimacy to do it," he said in Jerusalem.

"One of the ironies is that the cash that Iran gets from European deals it uses to cleanse Syria of Sunnis. And where do the Sunnis go? To Europe. Talk about a boomerang."

The head of Iran's Atomic Energy organization said on Monday that Iran has the technical capability to enrich uranium to a higher level than it could before the multinational deal was reached.

"Technically, we are fully prepared to enrich uranium higher than we used to produce before the deal was reached ... I hope Trump comes to his senses and stays in the deal," Ali Akbar Salehi was quoted by Iranian state television.

Israel is widely believed to be the only nuclear-armed state in the Middle East, though it neither confirms nor denies possessing atomic weapons.

Israel has also said it would do whatever is necessary to prevent Iran from establishing a military front against it in Syria, though both countries recently played down prospects they could go to war over Syria.

However missile strikes against several government military bases in Syria on Sunday—which were not claimed by any party despite speculation in Israel that its military was responsible—underscored the risks of a wider escalation.

Israel has previously carried out strikes in Syria to stop Iran getting stronger there or transferring weapons to the Lebanese Shi'ite terror group Hezbollah. Israeli officials did not comment on Sunday's missile strikes.

AP contributed to this report.