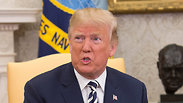 US President Trump
Photo: MCT
Trump to announce decision on Iran nuclear deal on Tuesday
President Trump criticizes former secretary of state Kerry over efforts to salvage agreement with Tehran, 'US does not need John Kerry's possibly illegal Shadow Diplomacy on the very badly negotiated Iran Deal. He was the one that created this MESS in the first place!'
WASHINGTON - President Donald Trump says he will announce his decision on whether to keep the US in the Iran nuclear deal on Tuesday.

Trump is facing a self-imposed May 12 deadline over whether to uphold the 2015 nuclear deal, which he long has criticized. Trump has signaled he will pull out of the agreement by the deadline unless it is revised, but he faces intense pressure from European allies not to do so.

"I will be announcing my decision on the Iran Deal tomorrow from the White House at 2pm," Trump tweeted Monday.

Under the agreement with the United States, France, Germany, Britain, Russia and China, Iran strictly limited uranium enrichment capacity to try to show that it was not trying to develop atomic bombs. In exchange, Iran received relief from economic sanctions.

Ending US sanctions relief could also trigger a backlash by Iran, which could resume its nuclear arms program or punish US allies in Syria, Iraq, Yemen and Lebanon, diplomats said.

Trump has all but decided to withdraw from the accord but exactly how he will do so remains unclear, two White House officials and a source familiar with the administration's internal debate told Reuters last week.

One of the White House officials said it was possible Trump will end up with a decision that "is not a full pullout," but was unable to describe what that might look like.

Iranian President Hassan Rouhani hinted on Monday that Iran could remain in the accord even if the United States dropped out, but said that Tehran would fiercely resist US pressure to limit its influence in the Middle East.

Rouhani said the Islamic Republic had been preparing for every possible scenario, including a deal without Washington—which would still include the other signatories that remain committed to it—or no deal at all.

"We are not worried about America's cruel decisions...We are prepared for all scenarios and no change will occur in our lives next week," Rouhani said in a speech broadcast live on state TV.

"If we can get what we want from a deal without America, then Iran will continue to remain committed to the deal. What Iran wants is our interests to be guaranteed by its non-American signatories ... In that case, getting rid of America's mischievous presence will be fine for Iran."

Britain, France and Germany remain committed to the accord and, in an effort to address US complaints, want to open talks on Iran's ballistic missile program, its nuclear activities beyond 2025—when pivotal provisions of the deal expire—and its role in the wars in Syria and Yemen.

The American president has been the subject of an intense lobbying effort by American allies to maintain the agreement, with British Foreign Minister Boris Johnson making a last-ditch appeal to the administration in a visit to Washington this week. European leaders say that they are open to negotiating a side agreement with Iran but that the existing framework must remain untouched for that to happen.

Earlier Monday, Trump criticized John Kerry after reports that the former secretary of state has been promoting the Iran nuclear deal.

Trump said on Twitter: "The United States does not need John Kerry's possibly illegal Shadow Diplomacy on the very badly negotiated Iran Deal. He was the one that created this MESS in the first place!"

Kerry, who was also the lead negotiators for the Obama administration on the Paris climate accord, has been promoting both agreements since he left office.

The Boston Globe reported Friday that Kerry, the lead negotiator on the deal for the Obama administration, had been privately meeting with foreign officials to strategize on how to keep the US in the deal. Trump has been highly critical of the pact and has threatened to exit on May 12.

Kerry has met with Iran's Foreign Minister Mohammad Javad Zarif and at least one of their meetings was at a public event in Oslo, Norway in June of 2017, where they sat on the same panel with EU foreign policy chief Federica Mogherini and extolled the virtues of the nuclear deal.

Kerry, a keen environmentalist who regularly derided climate change skeptics and championed ocean health while secretary of state, has also continued to speak out on those issues since becoming a private citizen.

Last week at an event in Dallas, Trump mocked Kerry over a bicycle accident he had three years ago.

Reuters contributed to this story.