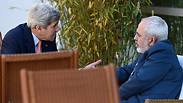 Kerry and Zarif meet in Geneva in 2015
Photo: AP
Report: Kerry meets with Zarif in effort to salvage nuclear deal
According to the Boston Globe, the former US secretary of state has been on a shadowy campaign to save the deal signed under the Obama administration by trying to pressure Trump White House from the outside; he also reportedly met with Macron and Steinmeier, spoke to EU foreign policy chief Mogherini.
Former US secretary of state John Kerry reportedly met with Iran's Foreign Minister Mohammad Javad Zarif at the UN two weeks ago in an effort to salvage the nuclear deal signed between world powers and Tehran, the Boston Globe reported on Friday.

According the Globe, which cited a person who was briefed on the meeting, this was the second time in about two months the two had met in an effort to prevent the deal, which they both negotiated during the Obama administration, from falling apart.

Their first meeting was on the sidelines of a Munich conference in February. According to the New Yorker, during that first meeting, which it said was attended by others involved in the nuclear deal, "Kerry quietly urged the Iranians not to abandon the deal or violate its terms - whatever the Trump Administration does."

Iran's foreign ministry spokesman Bahram Qasemi, quoted by IRNA, said that Zarif "has always met on the sidelines of such international summits with attending personalities and elites ... in the framework of preserving Iranian interests."

Zarif had met on the sidelines of the Munich Security Conference with "John Kerry and Ernest Moniz, foreign and energy ministers of the previous US government, who have a critical attitude towards Trump Administration policies," Qasemi said.

US President Donald Trump, who succeeded Obama, has threatened to abrogate the 2015 agreement by not extending sanctions waivers when they expire on May 12, if Britain, France and Germany do not "fix" its "terrible flaws."

While Iran has accepted curbs on its nuclear work - which it says is for purely peaceful purposes - it has repeatedly refused to discuss its missile program, something the United States and European countries have called for.

Iran says its missile program is defensive, and that it is not related to the nuclear deal with world powers.

Kerry has reportedly been on an aggressive shadowy campaign, going through his contacts from his time as the secretary of state to try to pressure the Trump administration from the outside.

He met last month with German President Frank-Walter Steinmeier and with French President Emmanuel Macron in Paris and in New York, as well as spoke on the phone to European Union foreign policy chief Federica Mogherini, the Globe reported.

Reuters contributed to this report.