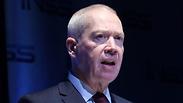 Minister Galant
Photo: Motti Kimchi
Galant: US withdrawal from deal could halt Iran's nuclear program
Minister Galant says renewal of sanctions and pressure from other nations would lead Tehran to give up its nuclear aspirations as well as address other thorny issues; Minister Katz seeks to assuage fears of Iranian retaliation: 'trust the security forces.'
Housing and Construction Minister Yoav Galant asserted on Tuesday that US withdrawal from the agreement signed between world powers and Iran would lead to a halt of Tehran's nuclear program.

Galant, a former IDF general and a member of the Security Cabinet, claimed in an interview with Ynet that if US President Donald Trump decides to drop the agreement and resume sanctions on the Islamic Republic, "this could lead Iran to a complete halt of its nuclear program, as well as (to address) the issue of missiles, operating mechanisms for nuclear weapons, the increased enrichment and of course supervision on another level."

He explained that "When the Iranians realize they shouldn't mess with Trump, and when they face harsh sanctions—meaning anyone who trades with Iran doesn't trade with the US—it would have far-reaching consequences."

"I hope they return to their natural place and become a nation that acts like other nations and stop supporting terrorism," Galant added.

The housing minister compared the Iran nuclear deal to the Munich Agreement that Europe signed with the Nazis in 1938, "which only postponed the war by a year, and they got that war under far worse conditions."

Galant allowed that a conflict between Iran and the US could directly affect Israel. "It could lead to increased friction between us and Iran and their agents, Hezbollah. They would try to put pressure on us and as a result on the Americans as well. Meaning, if an armed conflict erupts between the US and Iran, the weapon Iran would try to use against the US would be Hezbollah against Israel. We're prepared for such a scenario," he said.

Transportation and Intelligence Minister Yisrael Katz echoed Galant's comments, saying "The American sanctions and the pressure from other countries would lead to the cancelation of Iran's nuclear program... and thwarting Iran's activity in this region."

He sought to assuage fears of an Iranian retaliatory strike against Israel. "The citizens of Israel need to trust the security forces, which are carrying out intelligence deterrence operations, as well as preventative actions if necessary," Katz said.

"We hope we don't have to get into a round of violence. The Iranians are threatening, but Israel has set a clear red line that it will not allow Iran to establish military presence in Syria and create a northern front that would threaten the Israeli home front, and we remain steadfast on this line," he added.

Trump is facing a self-imposed May 12 deadline over whether to uphold the 2015 nuclear deal, which he long has criticized. Trump has signaled he will pull out of the agreement by the deadline unless it is revised, but he faces intense pressure from European allies not to do so.

"I will be announcing my decision on the Iran Deal tomorrow from the White House at 2pm," Trump tweeted Monday.

Alexandra Lukash, Nir Cohen and Itay Blumenthal contributed to this story.