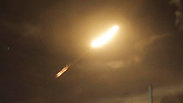 Syrian antiaircraft fire
Photo: EPA
Israel attacks more than 50 Iranian targets in Syria after Iran targets Israeli bases
IDF Spokesperson says none of the 20 rockets fired by Revolutionary Guards' Quds Force hit Israeli territory; four rockets were intercepted by the Iron Dome system and the rest landed on Syrian territory. 'The Quds Force paid a heavy price,' says Brig. Gen. Manelis, defining Israeli response as 'one of the greatest operations of the Israel Air Force in the past decades.'
Iranian forces in Syria launched a rocket attack on Israeli army bases in the Golan Heights early on Thursday, Israel said, prompting one of the heaviest Israeli barrages in Syria since the conflict there began in 2011.

IDF Spokesperson Brigadier-General Ronen Manelis said Thursday morning that none of the 20 rockets fired by the Iranian Revolutionary Guards' Quds Force hit Israeli territory. Four of the rockets, he said, were intercepted by the Iron Dome air defense system and the rest landed on Syrian territory.

In response, the IDF attacked more than 50 Iranian targets in what Manelis defined as "one of the greatest operations of the Israel Air Force in the past decade."

"The Quds Force paid a heavy price. It will take the Iranians a long time to rehabilitate," the IDF spokesperson said.

"The IDF has been engaged in a wide-scale disruption operation against an attempt by the Quds Force to carry out an offensive against Israel," Manelis said. "We have operated several times against ticking Iranian bombs and have succeeded in preventing a number of terror attacks and Iranian strikes in the past month."

The IDF spokesperson added that "the Quds Force, led by Qassem Suleimani, targeted us and failed to achieve the desired outcome. At the Quds Force's orders, and under Iranian command in the attack's command and control circles, about 20 rockets were fired by Hezbollah experts and Shiite militias with Iranian weapons, and none of them hit Israeli territory. Four of them were intercepted by the Iron Dome and the rest landed on Syrian territory. The fired weapons were Grads and Fajr-5 rockets from a vehicle about 30 to 40 kilometers from the suburbs of Damascus."

He added that "there were no injuries and not a single post sustained damage. The rest of the reports are false. This is an achievement resulting from a proper preparation of the air defense system and of the IDF forces. It's a success, but we're prepared for other options. This Iranian operation is a shameless act by Iran and the Quds Force."

According to Manelis, in addition to dozens of Quds Force targets in Syria, the IAF also attacked logistic headquarters, a military camp and intelligence posts.

"We attacked the vehicle that launched the rockets at Israel. All the targets were destroyed and all our planes return to Israel safely despite significant antiaircraft barrages fired by the Syrian army. We also struck five batteries of the Syrian antiaircraft system, which fired dozens of missiles at our planes," the IDF spokesperson said.

Syrian antiaircraft fire against Israeli missiles

"We warned the Syrian army not to intervene. This night reflects what we are preparing for the future. The Quds Force chose to act against the State of Israel in the wrong place. We won't accept an Iranian entrenchment in Syria and the Quds Force has paid a very heavy price. Any further attempt by the Quds Force to target Israel will be met with a very heavy price."

The General Staff, Manelis added, has been conducting evaluations of the situation with IDF commanders on a daily basis in the past month. "We are not seeking a deterioration and we are prepared for what happens next. Tonight we thwarted Iranian abilities that threatened the State of Israel and we have abilities that have yet to be implemented. If the Syrians allow direct activity against Israel they will pay a price. It will take the Iranians a long time to rebuild the operational, military and intelligence infrastructure we hit tonight. We informed the Russians about this activity in advance."

The attack on the Golan Heights, just past midnight, marked the first time Iranian forces have hit Israel from Syria, where they have deployed along with Iran-backed Shiite militias and Russian troops to support President Bashar Assad in the seven-year-old civil war.

The Iranian attack Wednesday night activated air raid sirens in the Golan Regional Councils, prompting residents to enter bomb shelters.

Syrian state media said dozens of Israeli missile strikes hit a radar station, Syrian air defense positions and an ammunition dump, underscoring the risks of a wider escalation involving Iran and its regional allies.

Israel struck back by destroying dozens of Iranian military sites in Syria, military spokesman Lieutenant-Colonel Jonathan Conricus told reporters, as well as Syrian anti-aircraft units that tried unsuccessfully to shoot down Israeli planes.

"We do not know yet the (Iranian) casualty count," he said.

"But I can say that in terms of our purpose, we focused less on personnel and more on capabilities and hardware ... to inflict long-term damage on the Iranian military establishment in Syria. We assess it will take substantial time to replenish."

Golan Regional Council head Avi Malka said Thursday morning that after a status evaluation it has been decided to have no changes to the school schedule in the Golan Heights. The shuttle services and public transportation will operate as usual in the area.

The Golan Heights farmers have been instructed to proceed as usual as well. The operations center in the council and nearby communities remain in constant contact with the IDF.
'Right decision'
The Israelis fear that Iran and its Lebanese ally Hezbollah are turning Syria into a new front against them. Israel says its occasional strikes in Syria aim to foil that.
Iran vowed retaliation after a suspected Israeli air strike last month killed seven of its military personnel in a Syrian air base.
Israel regards Iran as its biggest threat, and has repeatedly targeted Iranian forces and allied militia in Syria.
Expectations of a regional flare-up were stoked by US President Donald Trump's announcement on Tuesday that he was withdrawing from the Iranian nuclear deal. Hours later, Israeli rocket rockets targeted a military base in Kisweh, a commander in the pro-Syrian government regional alliance said.
That attack killed 15 people, including eight Iranians, the Syrian Observatory for Human Rights said, though the commander said there were no casualties. Israel has neither confirmed nor denied responsibility.
The Trump administration cast its hard tack against the Iranian nuclear deal as a response, in part, to Tehran's military interventions in the region.
White House press secretary in Fox News interview
The Golan flare-up with Israel "is just further demonstration that the Iranian regime cannot be trusted and another good reminder that the president made the right decision to get out of the Iran deal," White House press secretary Sarah Sanders told Fox News.
Russia warned
The tensions worry Russia, which wants to stabilize Syria.
Thursday's flare-up came hours after Israeli Prime Minister Benjamin Netanyahu returned from a visit to Moscow, where he discussed Syria concerns with Russian President Vladimir Putin.
Conricus said Israel forewarned Russia of its strikes on Thursday, which Syrian state media first reported hit Baath City in Quneitra, near the border. Further waves of missiles followed. Syrian state media said Israeli missiles had been brought down over Damascus, Homs and Sueida.
"Air defenses confronted tens of Israeli rockets and some of them reached their target and destroyed one of the radar sites," Syrian state news agency SANA reported, citing a military source. Another rocket hit an ammunition warehouse, it said.
Syrian state television was broadcasting footage of its air defenses firing, and playing patriotic songs. Damascus residents described explosions in the sky from air defense systems.
Israeli media said residents of Metula, on the Lebanese border, had been instructed to go to bomb shelters. There was no official confirmation.
Lebanon's National News Agency reported Israeli jets circling over Lebanese territory early on Thursday before exiting.