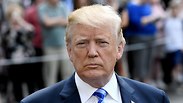 President Trump
Photo: MCT
President Trump announces US withdrawal from Iran nuclear deal
Speaking at the White House in Washington, President Trump announces American decision to withdraw from Iran nuclear deal; 'Iran has kidnapped, murdered and tortured American citizens,' Trump says, adding 'horrible, one-sided deal should have never been made. It didn't bring peace, and it never will'; Trump also announces sanctions to be reimposed.
Putting an end to speculation, President Trump is announced his decision to withdraw the United States from the 2015 nuclear deal, and reinstate sanctions on the Islamic republic that the deal removed.

Iran, which Trump said supported Hezbollah, Hamas, Taliban and al Qaeda, has "kidnapped, murdered and tortured American citizens."

President Trump's statement on withdrawal from nuclear deal

However, he said, no action taken by the regime has been more dangerous than its "pursuit of nuclear weapons and the means of delivering them."

In theory, Trump explained, the Iran deal was supposed to "protect from the lunacy of a nuclear bomb that will only endanger the survival of the Iranian regime."

Instead of doing that, he lamented, it merely allowed Iran to continue enriching uranium and reach the brink of nuclear breakout, while lifting "crippling economic sanctions in return for weak limits" on its nuclear program, while placing "no limits on other activities in Syria, Yemen and elsewhere."

"A constructive deal could easily have been struck at the time, but it wasn't," the president said. The deal that was struck, he added, was a "horrible, one-sided deal that should have never been made. It didn't bring peace, and it never will."

Explaining his reasoning, Trump said that, "Even if Iran fully complies, the regime can still be on the verge of nuclear breakout in short period of time."

"If I allow this deal to stand, there will soon be a nuclear arms race in the Middle East. Everyone will want nuclear weapons before Iran has its own," Trump said.

"The deal does nothing to constrain Iran's destabilizing activities, including its support of terrorism. We cannot prevent an Iranian nuclear bomb under the decaying, rotten structure of the current agreement," he elaborated.

"America will not be held hostage to nuclear blackmail," the president declared. "The United States no longer makes empty threats. When I make promises, I keep them."

"As we exit the Iran deal, we will be working with our allies to find a real, comprehensive and lasting solution to the Iranian nuclear threat," he added, saying efforts will be made to eliminate the threat of Iran's ballistic missile program, its support of worldwide terrorism and its "menacing activities" in the Middle East.

If the Iranian regime continued harboring nuclear aspirations, Trump vowed, it will have "bigger problems than it has ever had before."

While Iran's leaders have announced their refusal to negotiate a new deal, Trump said they are going to want to do that—one that benefits "all of Iran and its people."

"When they do, I am ready, willing, able. Great things can happen for Iran and for the peace and stability that we all want in Middle East," Trump concluded. "There has been enough suffering, death and destruction. Let it end now."

Ahead of the speech, multiple media outlets reported the president will announce a withdrawal, with the New York Times reporting Trump told French President Emmanuel Macron as much in a phone conversation earlier Tuesday, adding sanctions will be re-imposed along with other economic measures.

Both the White House and Macron's office denied the report, however.

Nevertheless, the Associated Press and AFP news agencies both reported an American withdrawal, while CNN reported Trump will announce a resumption of some sanctions as a first step en route to withdrawal.

The aforementioned reports were congruent with "deep pessimism" voiced by the US's European partners to the deal, with European officials saying Trump will most likely announce a withdrawal, with the terms thereof remaining initially unclear.

Trump's White House speech comes four days before the end of the deadline he had given Europe to fix the deal's "terrible flaws." In the past few weeks, three of the deal's European signatories—Britain, Germany and France—have exerted immense efforts in trying to convince the administration to remain in the deal.

German Chancellor Angela Merkel, Macron and Britain's Foreign Minister Boris Johnson have all visited Washington in the past two weeks, in an attempt to convince the US there was no alternative to the deal, and that its collapse will serve as a diplomatic blow that will only strengthen Tehran's hardliners.

Prime Minister Benjamin Netanyahu, on the other hand, attempted to convince Trump that Iran has never forsaken its intentions to develop nuclear weapons, in a speech at the Kirya army headquarters in Tel Aviv last week, in which he unveiled the "secret Iranian nuclear archives."

After Netanyahu's speech, the American president said recent developments showed he was "100 percent right" about the deal, which he had previously dubbed the "worst ever."

As part of the 2015 agreement, Iran made an obligation to limit its nuclear program to levels that will not allow it to develop nuclear weapons, and has assented to stringent oversight by the West.

In return, most of the sanctions levied on it—which have crippled its economy—have been removed.