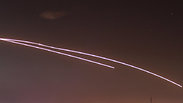 Alleged missile interceptions in Syria
Photo: EPA
Syrian army says only 3 killed in Israeli strikes
After war monitor reports at least 23 military personnel—including Syrians and non-Syrians—were killed in Wednesday night's strikes following Iranian attack on Golan bases, Assad army says only three killed and two injured and most Israeli missiles shot down; meanwhile, Iran's 'empty threats' mocked on social media.
Syria's Army Command said Thursday that only three people were killed and two injured Wednesday night in Israeli strikes after Iranian forces fired rockets at Israeli-held territory for the first time.

A war monitor, the Britain-based Syrian Observatory for Human Rights, said the strikes had killed at least 23 military personnel, including Syrians and non-Syrians.

Syrian state media said Israel launched dozens of missiles and hit a radar station, Syrian air defense positions and an ammunition dump, underscoring the risks of a wider escalation involving Iran and its regional allies.

"We destroyed most of the missiles fired by Israel," the Syrian army boasted. "The Syrian army's general command is prepared and ready to deal with every strike in full force. We are also committed to thwarting any attempt to support terror groups operating in our country."

Syrian television broadcast

Russia's defense ministry said earlier that Syria had shot down more than half of the missiles fired by Israel, RIA news agency reported.

Syria's Army Command added that "thanks to our air defense system's preparedness and abilities, we managed to intercept many of the Israeli missiles directed at some of our military sites at dawn. These attacks have no purpose other than bolstering the terror groups operating in the country."

According to Israeli and foreign reports, the IDF attacked 50 Iranian targets in Syria after 20 rockets were fired at the Golan Heights. Some of the rockets were shot down. There were no reports of injuries or damage.

Syrian media, however, presented a different picture of the events, with Syrian news anchors praising the Assad army.

"The Zionist enemy won't withstand another powerful blow like the one it was dealt last night," a Syrian television presenter said. According to another report, "Planes at Ben-Gurion Airport can't keep up with the number of people trying to flee Israel."

"Syria is the strongest army in the world thanks to the great Assad and his army," said another television presenter.

One of the Syrian media outlets reported that Syria's air defense system "successfully shot down dozens of missiles fired from the Israeli air force's planes at targets in the Damascus area."

The report added that the Syrian rockets "humiliated the Iron Dome," which according to Syrian journalists "failed to intercept the rockets launched from Syria at nine military targets, including Israeli intelligence bases."

The Syrian media failed to mention the damage inflicted on Quds Force targets by the IDF, as well as a strike in the Idlib area by Russian warplanes, which killed members of two families in a small village in the area.

The Syrian claims are "backed" by plenty of pictures and videos.

Syrian television further argued that "Israel and the United States are presenting false claims about the Iranian nuclear program" and that "Israel is using this opportunity" to justify strikes in Syria.

The situation was slightly different on social media. While state media remained loyal to the regime, some Syrians voiced their disappointment over the failure to retaliate the ongoing Israeli strikes in Syria, while others mocked Iran's "empty threats."

Many Syrians repeated the conspiracy theory the rebel forces are operated by Israel and that the Islamic State is actually an Israeli force operating inside the country, receiving funding, training and weapons from Israel to carry out its missions.