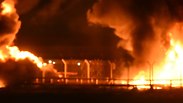 The fire
Photo: IDF Spokesman's Office
Israel temporarily closes crossing after rioters set it aflame
After Gaza rioters cause damage estimated in the millions of shekels to the Kerem Shalom Crossing, Israel closes its main cargo crossing with the strip for several days in order to better estimate the damage and begin repairs; damage halted supplies being delivered to the Gaza Strip; Palestinians 'are simply bringing disaster upon themselves,' says one official tasked with leading repair efforts.
Israel closed the Kerem Shalom Crossing for damage estimation and repair after hundreds of Palestinian rioters vandalized and set ablaze a fuel complex and a conveyor belt on the Gaza side of the crossing during Friday's weekly "March of Return" protest.

"The crossing will remain closed until the damage caused by the riots are repaired and will reopen in accordance with a situation assessment," the IDF said in a statement.

Representatives of the Border Crossing Authority, members of the Southern Command and the Kerem Shalom Crossing operators toured the area of the fire Saturday to estimate the scope of the arson, estimating the damage done at tens of millions of shekels.

They were to decide whether the crossing, the strip's main cargo crossing with Israel, should remain temporarily closed, with the coming Tuesday, Nakba Day, being considered as the day of its reopening.

"We were amazed at the destruction and devastation left by the Palestinians. They are simply bringing disaster upon themselves," one official from the touring team told Ynet.

The vandalism caused more than $9 million in damages to the installations at the crossing and disrupted the import of diesel fuel and building materials, rendereding the main fuel and gas lines unusable.

According to the IDF, the fuel installation is the only way to bring diesel fuel into Gaza for operating generators for hospitals and other key facilities.

Footage of the fire at the crossing (צילום: דובר צה"ל)

A video from the Kerem Shalom crossing shows Palestinians cheering as a fire was set.

It was the second such attack on the facility in a week. "Hamas continues to lead the residents of Gaza to destroy the only assistance they receive," the IDF said.

Matan Tzuri and Yoav Zitun contributed to this report.