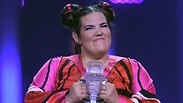 Netta Brazilai wins the Eurovision
Photo: AFP
Netta Barzilai, who won the Eurovision Song Contest with her song "Toy," said early Sunday she was "proud to bring this magical event to Israel."
Israel, as the 2018 winner, will be hosting next year's competition for the first time in 20 years. It is Israel's fourth Eurovision win, with its last victory being in 1998 with Dana International's song "Diva," and two additional wins in 1978 and 1979 with the Izhar Cohen & the Alphabeta song "A-Ba-Ni-Bi" and the Gali Atari & Milk and Honey song "Hallelujah" respectively.
Speaking with tears of joy at a press conference after her win, the singer added, "I'm so happy we were able to reach hearts, I'm so happy we were able to change (Israel's) image. It's time, we deserve this."
Brazilai won first place in the Eurovision final, which took place in Lisbon, Portugal. The song defeated 25 others competing for the first place with 529 points.
"I'm so happy," she said on stage as she received the prize. "Thank you so much for choosing different. Thank you so much for accepting differences between us. Thank you for celebrating diversity. Thank you. I love my country. Next time in Jerusalem!"
Brazilai wins the Eurovision (קרדיט: באדיבות כאן 11)
The trophy she received at the end of the competition was broken, and Brazilai received a new one during the press conference. Her victory, she said, "is dedicated to everyone."
She said she could not remember the moments following her win. "It's all blank, I can only remember six people screaming all around me," she admitted.
But Brazilai doesn't intend to be a one-hit wonder. "I plan on being an artist and write my next song," she said of her plans for the future.
She also said she plans to continue performing at weddings. "Weddings are the most fun. It's a mitzvah to bring joy to a bride and groom, I think they'll just have to pay me a little more than NIS 500 per show," she joked.
Netta also promised to be at the Pride Parade in Tel Aviv. "They (the LGBT community) take care of me all the time, even in the hard times. Without them I'm nothing," she said.
Thousands of Israelis celebrated the win at Rabin Square in Tel Aviv throughout the night.
Thousands celebrate Eurovision win in Tel Aviv (צילום: איתי בלומנטל)
Prime Minister Benjamin Netanyahu spoke to Brazilai on the phone after the event, telling her, "Netta, you're wonderful. Charming. Next year in Jerusalem."
"You're the best ambassador for Israel. We—me and my wife Sara—have been cheering 'Netta, Netta, Netta.' We're waiting for you (to return to Israel). We love you," the prime minister added.
"This is so much fun, Israel won the Eurovision!" Netta answered.
President Reuven Rivlin congratulated Brazilai on Twitter: "We're proud of you, dear Netta. We're waiting for everyone next year in Jerusalem!"
Even before her win, Rivlin spoke to Brazilai on the phone. "You're a talented and wonderful creator, who puts the State of Israel at the forefront of creation in the world, and I want to say thank you for the journey you've taken so far. For all of us, you're a symbol of victory," he told her. "When you take the stage tonight, remember - you're not alone for a moment. An entire country is behind you. From Jerusalem, from me and Nechama, I'm sending you a 'douze points.'"


Zionist Union chairman Avi Gabbay also took to Twitter also the win, writing: "When a powerful woman like Netta preaches to the acceptance of the other on the biggest stage in the world, and says 'I love my country,' this is the best PR one can ask for."
"Happy Jerusalem Day," he added, as the holiday is marked on Sunday.
Culture and Sports Minister Miri Regev congratulated the singer, saying "You nailed it and made us all excited. You brought great honor to the State of Israel."
"Netta brought a great gift to the State of Israel, which is celebrating 70 years to its independence, and to Jerusalem, which is today celebrating 51 years to its liberation and reunification," Regev added. "Next year, the Eurovision will be in Israel, and we will do everything to host it in the best way and show the State of Israel's beautiful side once again."
On the Eurovision's official YouTube channel, the music video for "Toy" became the 10th most watched video of all times, with over 25 million views in only two months.