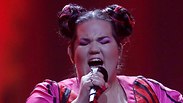 Netta Barzilai
Photo: Reuters
Netta Barzilai brings Eurovision win to Israel
Israeli songstress broke barriers, brought Israel its fourth Eurovision Song Contest win; 26 countries competed in this year's finals, with Israel widely considered a frontrunner to win from the outset; 'I've given all my heart and soul to Eurovision, and now it's your turn,' Barzilai tweets after her performance; PM Netanyahu tweets his greeting, Gal Gadot calls on her 19.5 million Instagram followers to vote 22 for Israel's entry.
Israel's Netta Barzilai won the 2018 Eurovision Song Contest Saturday night in a photo finish against Cyprus, netting the country its fourth ever win and the right to host next year's contest. "Next time in Jerusalem!" Netta shouted in her post-win interview.

Earlier, Netta took to the Lisbon stage for the Eurovision's finals to perform her song, "Toy," in a performance that was said to be better than her semifinal outing.

A snippet from Netta's finals performance (קרדיט: באדיבות כאן 11)

Barzilai performed 22nd, and according to the thunderous applause she received when she was done, it was apparent not only Israelis thought she gave the performance of a lifetime.

Even the British Telegraph paper thought as much, saying the Israeli song was "one of the more fun, interesting and moving in Eurovision's history."


After her performance, Barzilai tweeted, "I've given all my heart and soul to #Eurovision, and now it's your turn"—calling voters to cast their ballots for her song.

Prime Minister Benjamin Netanyahu himself chimed in, tweeting, "Netta, kaparah ala'ich (an Israeli term of endearment)" while world renowned Israeli actress Gal Gadot published an Instagram post calling on her 19.5 million followers to vote for Netta.

A short time before the contest was underway outside the Altice Arena in the Portuguese capital, where the event was held, long lines, sky-high adrenaline and multicolored shirts and flags filled the surrounding area.

A local Boycott, Divestment and Sanctions (BDS) campaign called to boycott Israel at the contest, but did not stop international fans from lauding Netta's performance and song.

President Reuven Rivlin spoke with Barzilai on the phone before the contest Saturday, and told her, "Our dearest Netta, I wanted to speak to you before it all begins to tell you how much we're proud of you, regardless of tonight's outcome."

"You're a talented and wonderful artist, who places Israel center stage, and I'd like to thank you for the road you've taken thus far. You're a symbol of victory to us all. When you go onstage tonight, remember—you're not alone for a moment, you have an entire country behind you," the president added.

"From Jerusalem, from Nechama and I, I'm sending you a 'Douze points' ('12 points' in French, the highest possible score for a Eurovision performance—ed)," Rivlin concluded.

The Eurovision's official YouTube channel said recently that Netta's Eurovision clip became the channel's tenth most watched of all time, with more than 25 million views in only two months.

The Israeli entry also topped the betting charts, and fluctuated between the first two places in the past few days, placing in second at the night of the contest. Barzilai's chief competition for the vaunted win was said to be Cypriot Eleni Foureira with her song, "Fuego."

Last year's winner, Portuguese crooner Salvador Sobral, did not think much of Toy, calling it "horrible."

In an interview with the Portuguese Público newspaper this week, Sobral said he had not listened to any of this year's contestants except from Netta and his country's own entrant.

"Luckily, this year, I do not have to hear anything," he said. "I only know the Portuguese song and Israel, because YouTube forced me to see it... YouTube thought I would like the Israeli song, and then I opened it and a horrible song came out of it."

Barzilai was once again nonplussed, tweeting, "Sending only love to Salvador and all artists of all genres" along with a red heart.

Netta's family was front and center to cheer her on as well, wearing shirts bearing the singer's image with the writing "Yes chi-ken!", inspired by former US president Barack Obama's 2008 presidential campaign.