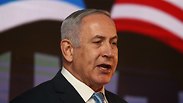 PM Netanyahu
Photo: Ohad Zwigenberg
PM Netanyahu welcomes US delegation ahead of embassy opening
US delegation of 250 officials, as well as four EU ambassadors and many Israeli lawmakers attend the inaugural event celebrating the moving of the US Embassy to Israel's capital—the first to ever be situated there; PM Netanyahu: 'Jerusalem will remain our capital for all time.'
Prime Minister Benjamin Netanyahu on Sunday attended an event welcoming the US delegation ahead of Monday's opening of the US Embassy in Jerusalem at a ceremony held at the Foreign Ministry compound in Jerusalem.

A red carpet stretched out from the building's entrance, while band played Israeli and American music at the foyer. Each guest received a pin of Israeli and US flags.

Most of the ambassadors of the European Union boycotted the event, with the exception of four: the ambassadors of Austria, Hungary, Romania and the Czech Republic.



Many Israeli minister and MKs from the Left and the Right attended the event. The American delegation numbered 250 people, including Congressmen, rabbis and administration officials.

It also included Deputy Secretary of State John Sullivan, Trump's envoy to the Middle East Jason Greenblatt, American Ambassador David Friedman, Treasury Secretary Steve Mnuchin, Florida Governor Rick Scott, Senators Lindsey Graham, Ted Cruz, Mike Lee and Dean Heller, Congressmen Joe Wilson and Ted Deutch, Former US Ambassador to Israel Dan Shapiro and First Daughter Ivanka Trump and her Husband Jared Kushner, who is Trump's special Middle East advisor.

During the event Prime Minister Netanyahu gave a letter of appreciation to US Ambassador to Israel David Friedman in gratitude for his activity on behalf of moving the embassy to Jerusalem.

"Dear friends, from Israel, from the United States, from around the world. This is a momentous time. President Trump is making history. We are deeply grateful and our people will be eternally grateful for his bold decision to recognize Jerusalem as Israel's capital and to move the embassy there tomorrow," Netanyahu said in his opening remarks at the ceremony.

He then boasted about Israel's recent Eurovision win, telling the US delegation, "You're coming at a time when Israel is a rising power in the world, you know, in cyber, in IT, in water, in judo, in singing. You know what we say: Those who didn't want Jerusalem in the Eurovision are going to get the Eurovision in Jerusalem."

"Well, that's next year, but tomorrow will be a historic day for our people and for our state," he continued. "President Trump's decision to move the embassy to Jerusalem affirms a great and simple truth: Jerusalem has been the capital of the Jewish people for the past three thousand years. It's been the capital of our state for the past 70 years. It will remain our capital for all time.

Netanyahu then thanked Trump for his "bold decision" that made "the alliance between Israel and the United States stronger than ever," saying he demonstrated leadership by paving the way for other countries to follow suit, and directly addressed those who followed in his footsteps.

"I thank Guatemala's Foreign Minister, who is here, Sandra Jovel, who has joined us today. We will open your embassy two days from tomorrow. Thank you," he said. "I thank the President of Paraguay and the incoming President of Paraguay, because they'll open their embassy a few days after that. And other nations are in the process of doing exactly that."

Netanyahu then reiterated his advocacy for all to do the same, calling on all countries to "join the US in moving their embassies to Jerusalem," claiming it is not only the right thing to do, but that it would also promote peace.

"You base peace on the foundations of truth, and the truth is that not only has Jerusalem been the capital of the Jewish people for millennia and the capital of our state from its inception, the truth is that under any peace agreement you could possibly imagine, Jerusalem will remain Israel's capital," he affirmed.

Moving to another pressing Issue the Trump administration has stood firmly alongside Israel on, the premier spoke about Iran and it sponsorship of terrorism, stating that Trump's decision to confront the Mullah regime is yet another step towards achieving regional peace and criticizing Europe's unwavering support of the Iran nuclear agreement.

"To achieve peace, we have to do one other thing: We must confront the enemies of peace, and I thank President Trump for his decision to confront Iran rather than to appease it," he said. "Pulling out of the nuclear deal means that the world's greater sponsor of terrorism, greatest sponsor of terrorism, is no longer on a glide-path to attaining an arsenal of nuclear weapons. This is good for Israel, this is good for the region, and it's good for the world.

"Now, I have something to say to part of the world: With all due respect to those sitting in European capitals, we here in the capitals of the Middle East—in Jerusalem, in Riyadh and elsewhere—we've seen the disastrous consequences of the Iran deal. And so when President Trump decides to pull out of this deal, to walk away from it, we know that when he walks away from a bad deal, he's doing a good thing for our region, for the United States and for the world.

He then took the time to greet the US delegation. "I welcome Deputy Secretary Sullivan, Secretary Mnuchin, Jason Greenblatt, Ambassador David Friedman, who I mentioned before, and of course a special welcome to Jared Kushner and his wife Ivanka.

"I've known Jared for 15 years, and there's a special bond between our families, but I think the fact that you and Ivanka are here is a special, personal testament, but also a national and international statement. It is one that touches our hearts, and we are all delighted by your presence at any time, at any day, but especially on this day. Thank you.

"We value all of your friendships, all of you for coming here on this historic occasion. Thank you for standing up with Israel. Thank you for standing up for the truth. Thank you for standing up for Jerusalem. Thank you for coming here from all over the world.

"Thank you all."

In a following speech, Manucin later called the event "a historic moment in US-Israeli relations" and a "sign of lasting friendship between the two countries."

"This is appropriate, as Israel celebrates 70 years since its independence. We are celebrating 70 years of freedom and democracy," he said, noting that "In 1995, (The US) Congress passed a law to the move the US Embassy to Jerusalem, with the support of both parties, but for 20 years this promise has not been fulfilled. Trump pledged to fulfill this promise, and as a result of his leadership we are here."

"As Secretary of the Treasury, I am committed to using our financial tools to cut the terrorists out of financial systems until they change their behavior. These tools work" he added, referring to recent sanctions impose on Iran, making it clear it was one of the reasons Trump decided top withdraw from the Iran nuclear agreement,

"(Iran) must not have nuclear weapons. Not today and not years from now. Never. We will continue to work closely with Israel and all of our allies on a real and comprehensive solution (to this issue)," he concluded.

Shapiro, a vocal supporter of Israel, said he is happy with Trump's decision to move the embassy, saying "Jerusalem is a suitable place for the US Embassy," and adding that he hopes the US will use this to advance the two-state solution, with Jerusalem being the capital of both.

"Opening the embassy will advance this, even if in the long run," he asserted.