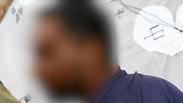 The detained infiltrator
Photo: IDF Spokesperson's Unit
A rioter who was captured by IDF soldiers after breaching the border fence and infiltrating into Israel on Tuesday said Hamas orchestrated the border demonstrations to stay in power.

"Hamas organized the demonstrations so that people would not 'turn' on them," he affirmed, explaining that the humanitarian situation in the strip has gotten so bad that Hamas planned out the March of Return protests to let people blow off steam, and did so in a way that would help their cause.

Their plan, as well as their propaganda, he said, worked.

"Hamas controls everything in the strip. Hamas sends us messages to our Facebook accounts and to our cellphones. They come to mosques handing leaflet saying to go to the fence. When there's electricity, and televisions can be turned on all you can see is the march. People got worn down and bored, and I'm one of those people," he said.

The detainee also seemed to back Israel's assertion that Hamas uses women and children as human shields in the protests.

"They tell women to go forward. They say to the woman: Go ahead, you are a woman, and the Israeli army does not shoot at women. They tell small children: Go ahead, the army does not shoot at small children. They tell a child to go ahead and he goes, it's a little boy. They deceive him," he laments.

While the IDF has indeed explicitly instructed not to fire at women or children, it has urged them to refrain from coming near the fence, saying they are putting themselves in harm's way by doing so.

On Tuesday, Prime Minister Benjamin Netanyahu stressed that sometimes harming civilians is inevitable.

"They're (Hamas) pushing civilians, women, children into the line of fire with the hope of creating casualties," he explained. "We try to minimize casualties. They're trying to incur casualties in order to put pressure on Israel, which is horrible."

A day later, Defense Minister Avigdor Lieberman called the terror group's leaders a "bunch of cannibals that treat their own children as armaments."

Meanwhile, earlier Wednesday, Hamas refused to allow two IDF Technological and Logistics Directorate trucks bearing hundreds of lifesaving medical equipment items to enter Gaza through the Kerem Shalom crossing.

The trucks thus returned to Israel, while six other trucks with similar medical equipment sent by UNICEF (the United Nations Children's Fund) and the Palestinian Authority were allowed to enter.

Sixty-one people were killed in Monday's riots, with more than 1,200 wounded. Senior Hamas official Salah Bardawil told Palestinian media Wednesday that 50 of the Palestinians killed in the Gaza Strip border riots Monday belonged to the terror group's ranks.