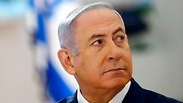 Israel's Prime Minister Benjamin Netanyahu
Photo: AFP
Netanyahu defends IDF's activity on Gaza border fence
Prime Minister Benjamin Netanyahu says IDF is left with 'bad choices' trying to defend Israel's border from Gazans sent by Hamas that 'call for Israel's destruction'; He believes peace is 'possible' with the Palestinian, but not with Hamas; Netanyahu speaks with France's Macron and Germany's Merkel saying Israel's sovereignty will not be threatened.
Prime Minister Benjamin Netanyahu defended Tuesday the IDF's activity on the Gaza border fence, saying Israel was "left with bad choices" after dozens of rioters approached and attempted to sabotage the fence.

"I don't know of any army that would have done anything differently if it had to protect its border against people who say, 'We're going to destroy you," Netanyahu said in an interview with CBS.

"You try other means. You try all sorts of means. You try non-lethal means, and they don't work, so you're left with bad choices," Netanyahu lamented.

The prime minister stressed that sometimes harming civilians is inevitable. "They're (Hamas) pushing civilians, women, children into the line of fire with the hope of creating casualties," Netanyahu explained.

"We try to minimize casualties. They're trying to incur casualties in order to put pressure on Israel, which is horrible," he elucidated.

The Prime Minister also said Israel will not hold talks with Hamas. "As long as they seek our destruction, what am I going to talk to them about?" he said.

As for peace with the Palestinians, he says he thinks it's "possible" but not with Hamas and others who call for Israel's destruction.

In another interview with HBO's VICE news, Netanyahu said that peace based on lies is pointless. "It's time to tell Palestinians: Abandon your fantasy of destroying Israel. Abandon the fantasy that says Israel will disappear. It will not," he assured.

Netanyahu presents wreckage of Iranian drone intercepted

Israel's leader gave a debut presentation of the wreckage of the Iranian drone that had penetrated into Israel's Golan Heights last February and had been intercepted.

IDF thwarts attempts to put explosive on Gaza border fence

The drone carried explosives and was meant to attack inside Israeli territory, according to IDF findings published last month.

In addition, Netanyahu spoke Tuesday evening with Germany's Chancellor Angela Merkel. They discussed regional issues, and Netanyahu thanked Merkel for condemning the Iranian aggression and for her supporting Israel's right to defend its sovereignty.

Netanyahu also spoke with France's President Emmanuel Macron and emphasized "Israel will protect its security interests, no country would have let its sovereignty to be threatened."

Meanwhile, The Palestinians continue with their Gaza border riots on the backdrop of the US Embassy move to Jerusalem. Palestinian Authority's President Mahmoud Abbas had decided to recall Palestinian Consul to the US Husam Zumlott, and according to Palestinian senior official Saeb Erekat, Zumlott is already on his way home.

New York Governor Andrew Cuomo postponed his visit to Israel amid violent events on the Gaza border fence.

Democratic Party's Como said last week that he desires visiting Israel to show his solidarity after Iran had launched its rockets at it from Syria's territory, as reported by Politico News Media Company.