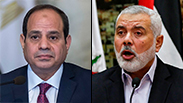 Egypt's Sisi (L) and Hamas leader Haniyeh
Photo: AFP
Hamas secures Egyptian humanitarian relief in return for dialing back protests
Terror group's chief Haniyeh met Egyptian officials, reached agreement to de-escalate protests, armed activity near border in return for various relief measures, Lebanese Al Akhbar paper reports; reopening of Rafah crossing said to be part of agreement; Hamas said to delay reply, only consenting to deal following Monday's death toll; if agreement is not upheld, Hamas threatens a return to violence.
During his meeting in Egypt with the country's intelligence chiefs this past Sunday, Hamas leader Ismail Haniyeh agreed to decrease the number of people attending border protests and their severity as well as halt plans for a mass exodus towards Israel in return for humanitarian relief measures for the isolated enclave, a Lebanese newspaper reported Friday morning.

The Hezbollah-affiliated Al Akhbar paper reported that Hamas's concession was not immediate, but only followed Monday's deadly border clashes—in which more than 60 Palestinians were killed in the highest single-day death toll since Operation Protective Edge.

At the end of Monday's protests, Haniyeh was said to have instructed protesters to withdraw from the border.

In addition, Hamas was also reported to have agreed to allow the same number of people to participate in Friday's weekly protest as have in previous weeks, thus decreasing potential conflagration points.

Egypt's General Intelligence Directorate also secured a promise from the Gaza-ruling terror group to cease all armed activities near the border, especially as it pertains to planting explosive devices and attempts to cross the fence to sabotage the construction of the subterranean barrier wall.

When the IDF announced a thinning of its forces in the region, Hamas considered it a signal of Israel's own willingness to reach a détente.

In return for Hamas's promises to ameliorate tensions, Egypt has agreed to open the Rafah border crossing for the passage of people for an indeterminate amount of time.

Initially, the crossing will remain open all through the Muslim holy month of Ramadan, as announced Friday morning by President Abed Fatah al-Sisi.

Egypt will also allow the passage of goods and humanitarian aid into the strip through Rafah, with both Israel's neighbor to the southwest and the United Arab Emirates announcing they will be sending humanitarian aid.

However, Egypt has refused to allow Turkish aid to enter the strip through its territory, due to the tensions permeating relations between Cairo and Ankara.

Egypt also promised Hamas to expend efforts to secure a prisoner swap deal with Israel and that it will also examine the possibility of increasing the amount of power provided to the strip through Israel and Egypt itself, and to also increase Gaza's fishery territory and secure Israeli authorization for various international projects to improve conditions in the strip.

Despite the apparent success of the agreement thus far, Hamas has announced that if the promised relief measures are halted, it will restart the protest and will not prevent the group's military wing from returning fire at IDF forces.

Hamas also stated a specific date for a possible resumption of protests—Naksa Day at the beginning of June—stating that such a return will be stronger and larger than in the past few weeks.