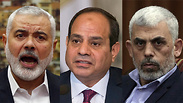 L to R: Haniyeh, al-Sisi and Sinwar
Photo: Reuters, AP
Israel says Hamas curbed Gaza protests after Egyptian warning
Gaza border protests restrained by Hamas after Egypt urges calm, Israel says, after more than 60 protesters were killed in Monday's demonstration; Hamas denies any Egyptian pressure; Minister Katz: '(Egypt) made unequivocally clear to (Hamas) that if this continues, Israel will respond and take far harsher steps, and Egypt will stand by and will not help.'
Palestinian protests on the Gaza border have dropped off dramatically, with Israel on Wednesday pointing to what it said were Egyptian efforts to restore calm after dozens of Palestinians were killed by Israeli gunfire.

Gaza's ruling Hamas movement, denying any pressure from neighboring Egypt to scale back the six-week-old demonstrations, said they would continue, even as far smaller numbers of Palestinians gathered in protest tents.

Gaza medics said two Palestinians were shot dead during Tuesday's demonstrations along the 51 km (32 mile) border. On Monday, 60 were killed in a far greater turnout on the day the United States relocated its Israel embassy to Jerusalem.


Pushing back against foreign censure of its army's actions, Israel has—with Washington's backing—accused Hamas of using civilians as cover for attacks across the frontier fence and to distract from Gaza's internal problems. Hamas denies this.

Angered by the US embassy move and the Gaza bloodshed, Turkey expelled Israel's ambassador and consul to Istanbul, Ankara said on Wednesday. Israel responded to its envoy's expulsion on Tuesday by expelling Turkey's Jerusalem consul.

There has been little Israeli domestic dissent at the lethal tactics around Gaza, where in the last decade Israel has fought three wars against Hamas, a terror group sworn to its destruction.

Dubbed the March of Return, the protests were launched on March 30 to demand Palestinian access to family lands or homes lost to Israel during its founding in the 1948 War of Independence. Larger crowds have flocked to the border after Muslim prayers on Fridays.

Gaza analyst Akram Attallah, pointing to the smaller number of protesters since Monday's deaths, said: "I can see there is a retreat because of the Israeli bloody response ... but Friday will represent an indicator to where things are going."

Hamas leader Ismail Haniyeh made a brief visit on Sunday to Egypt, which also borders Gaza and has sought to broker between the Islamists and Israel.

Hamas second-in-command Yahya Sinwar told Al-Jazeera on Wednesday that his organization "reached agreements with Egypt not to turn the situation into a military confrontation," though stressed that "if Israel continues to shed our blood, we will have to use military resistance."

Intelligence Minister Israel Katz said an Egyptian intelligence chief, whom he did not name, warned Haniyeh that Cairo "knows and has proof" that Hamas was funding the protests and sending people to the border fence to serve "as living ammunition, women and children instead of shells and rockets."
Holding fast
The Egyptian official "made unequivocally clear to him (Haniyeh) that if this continues, Israel will respond and take far harsher steps, and Egypt will stand by and will not help," Katz told Israel Radio in an interview.

"Haniyeh returned to Gaza, Hamas gave an order ... and miraculously, this spontaneous protest by a public that could not handle the situation any more dissipated."

There was no immediate response from Egypt to Katz's statements, which Hamas dismissed as false.

"There is no mediation. The marches will continue until our people achieve their goals," Hamas spokesman Fawzi Barhoum said.

At a news conference at a protest encampment on Wednesday, Palestinian factions, including Hamas and Islamic Jihad, urged people to take part in mass rallies on Friday.

But the start on Thursday of the holy month of Ramadan, when Muslims abstain from eating and drinking during daylight hours, could limit the scale of the demonstrations.

In a statement issued at the news conference, the factions said the fasting would be taken into account. They said marches would continue through early June.

Organizers say the Gaza protests are civilian actions, noting the absence of Israeli casualties compared to 107 Palestinian dead and thousands of wounded. Israel disputes this: Fourteen of those killed on Tuesday were shot while firing on Israeli troops or trying to blow up the fence, the army said.

In Jerusalem, following the US lead, Guatemala opened its embassy in the city on Wednesday. Paraguay is slated to do the same next week.

Most countries keep their embassies in Tel Aviv, however, saying the status of the holy city should be decided in peace talks between Israel and Palestinians, which want to have their own capital there. Those talks have been stalled since 2014.

Israel regards all of Jerusalem as its capital. Palestinians seek east Jerusalem as the capital of a state they want to establish in the West Bank and Gaza Strip.