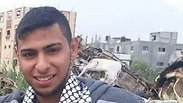 Seething at Gaza leadership, Palestinian youth sets himself ablaze
A young Palestinian father of two sets himself on fire in protest of Hamas' mishandling of the humanitarian crisis in the Gaza Strip, causing himself moderate injuries across his body; he is not known to be suffering from any mental illness; his brother was injured at a recent border protest.
A 20-year-old Palestinian father of two from Gaza set himself on fire Saturday night in the city's Sheikh Radwan neighborhood, all while cursing the strip's Hamas rulers who he apparently blamed for his family's poverty and the dismal economic situation in Gaza.

The young man, Fathi Harb, survived the self-immolation, and is currently in moderate condition.

Eye witnesses saw the man dousing himself in flammable liquid shouting "damn the government" before lighting himself up. Video footage of the incident shows the young man burning alive and screaming in agony with passersby rushing to put out the flames.

Warning: graphic content.

Footage of the incident

Fathi's family and associates emphasized that he does not suffer from mental illness, but noting he was distraught over his brother's injury in one of the "March of Return" demonstrations at the border with Israel, which are organized and promoted by Hamas.

Israel has repeatedly accused Hamas of cynically using its civilians' suffering to mount international pressure on it, choosing "death over peace" and refusing to cede power to the Palestinian Authority necessary to keep its reconciliation agreement with it alive.

In Februsary, Defense Minister Avigdor Lieberman asserted there is no humanitarian crisis in the Gaza Strip.

"The situation in Gaza is indeed difficult, and it needs to be taken care of, but there is no humanitarian crisis," Lieberman insisted in the face of concerns raised over water and electricity shortages in the strip.

Hamas, the defense minister insisted, was to blame for the situation in Gaza, as it "spent $260 million in 2017 on rocket manufacturing and tunnel digging. Some $100 million dollars of which came from Iran, and the rest came from tax collection inside the strip and donations from various places."

"Hamas was not willing to divert even one shekel toward the water, electricity, health or education systems in the strip. Hamas is willing to sacrifice all of Gaza's residents for weapons," Lieberman said.