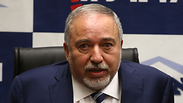 Defense Minister Lieberman
Photo: Ohad Zwigenberg
Lieberman: 'there is no humanitarian crisis' in Gaza
While admitting the situation in the strip is indeed difficult on its residents, which he says is the sole responsibility of Hamas, Defense Minister Lieberman denies there's an overall humanitarian crisis in Gaza; only COGAT can determine that, Lieberman says.
Defense Minister Avigdor Lieberman asserted Monday there is no humanitarian crisis in the Gaza Strip.

"The situation in Gaza is indeed difficult, and it needs to be taken care of, but there is no humanitarian crisis," Lieberman insisted in the face of concerns raised over water and electricity shortages in the strip.



Only the Coordinator of Government Activities in the Territories, Maj. Gen. Yoav Mordechai, can determine whether there is a humanitarian crisis in the West Bank or the Gaza Strip, Lieberman said.

However, he did note that there has been a deterioration in the level of services and basic infrastructure in the strip, saying it "needs to be taken into account."

Hamas, the defense minister said, was to blame for the situation in Gaza, as it "spent $260 million in 2017 on rocket manufacturing and tunnel digging. Some $100 million dollars of which came from Iran, and the rest came from tax collection inside the strip and donations from various places."

"Hamas was not willing to divert even one shekel toward the water, electricity, health or education systems in the strip. Hamas is willing to sacrifice all of Gaza's residents for weapons," Lieberman said.

He also blamed the situation on the intra-Palestinian conflict between Fatah and Hamas. "Hamas doesn't want to take any more responsibility over Gaza, because it won't transfer the tax collection to the Palestinian Authority," Lieberman charged.

Israel, he stressed, was "not a side in this crisis. If anyone suggests we take money from the Israeli taxpayer and divert it to the Gaza Strip, he is mistaken. I won't have one penny from the Israeli taxpayer going to the strip. There are enough rich Arab countries."