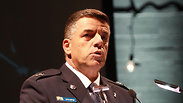 IAF Commander Maj. Gen. Amikam Norkin
Photo: Tal Shahar
IAF commander: Israel first in world to attack with F-35
While the IDF initially reported 20 rockets had been fired at army positions in the Golan Heights, Maj. Gen. Norkin reveals 32 were fired, with over 100 anti-aircraft missiles fired by Syria as Israeli jets were carrying out retaliatory strike.
The Israeli Air Force was the first in the world to carry out attacks with the F-35 stealth fighter jet, the IAF commander said Thursday.

Speaking to foreign air force commanders at a conference in Herzliya, Maj. Gen. Amikam Norkin presented a photo of an Israeli F-35 jet circling over Beirut, saying "We attacked twice in the Middle East with the F-35—we're the first in the world to do so."

Norkin also discussed the Iranian May 10 attack against Israel, saying the Quds Forces fired 32 rockets at Israel, and not 20 as the IDF previously reported, prompting a harsh Israeli response.

He also said Syrian aerial defense systems fired over 100 missiles at IAF jets as they were attacking Iranian targets in Syria in retaliation.

Iranian forces stationed in Syria launched a rocket attack on Israeli army bases in the Golan Heights, prompting one of the heaviest Israeli barrages in Syria since the conflict there began in 2011.

The IDF initially said 20 rockets had been fired, noting none of them hit Israeli territory after four were intercepted by the Iron Dome air defense system and the rest landed on Syrian territory.

The attack on the Golan Heights, just past midnight, marked the first time Iranian forces have hit Israel from Syria, where they have deployed along with Iran-backed Shiite militias and Russian troops to support President Bashar Assad in the seven-year-old civil war.

In response, the IDF attacked more than 50 Iranian targets in what IDF Spokesman Ronen Manelis defined as "one of the greatest operations of the Israel Air Force in the past decade."

According to Manelis, in addition to dozens of Quds Force targets in Syria, the IAF also attacked logistic headquarters, a military camp and intelligence posts.

"We checked what the Iranians were doing around us," Maj. Gen. Norkin said in his remarks. "The Quds Forces set up at the T-4 base, which is some 250 kilometers from Israel. From this base they tried to attack using a drone that infiltrated Israel several months ago. After that incident, we identified that they were continuing to store weapons at the base, including aerial defense capabilities that we attacked over the past month."

"In recent weeks, we realized Iran had sent missiles and long-range rockets to Syria, including (BM-27) Uragan launchers that we attacked north of Damascus," he continued.

Norkin went on to note that "our aerial defense systems—the Arrow, the Iron Dome and David's Sling—have an 85 percent success rate in interception."