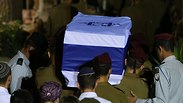 Staff Sgt. Lubarsky's funeral
Photo: Amit Shabi
Soldier killed by marble slab near Ramallah buried in Jerusalem
Hundreds of relatives, friends and Duvdevan Unit fighters attend funeral of Staff Sergeant Ronen Lubarsky, who was critically wounded during operational activity in West Bank. 'You died the death of a hero defending the State of Israel,' unit commander eulogizes him; 'Wild animals await our soldiers on the rooftops. I pray our leader will do something about it,' Lubarsky's brother says.
Hundreds of family members, relatives, friends and Duvdevan Unit fighters on Saturday night attended the funeral of Staff Sergeant Ronen Lubarsky, an IDF soldier who was critically wounded after a marble slab was thrown at him during an operation near Ramallah.

Lubarsky, 20, was pronounced dead Saturday morning at the Hadassah Ein Kerem Medical Center in Jerusalem, and was buried at the military cemetery on Mount Herzl.

Lubarsky is the first Duvdevan fighter to be killed during operational activity as a direct result of terrorist activity. Yedioth Ahronoth reported Sunday that Lubarsky was a friend of Staff Sgt. Shachar Strug, who was killed about two months ago by an unintentional discharge in an IDF base in central Israel.

"They were good friends," said Ronen's brother, Arik. "My brother saw them remove Shachar on a stretcher after he was killed. Now, it's two soldiers from the unit, such a terrible disaster."

The Strug family said Ronen had attended Shachar's funeral two months ago. "It's very sad and very painful," said Shachar's father, Kobi Strug.

Duvdevan Unit Commander Lieutenant Colonel A, eulogized Lubarsky during the funeral.

"Information led the unit to carry out the mission, a mission that managed to thwart and disrupt the terrorist cell's activity," he said. "One operation of many, an operation from which you, Ronen, did not return. You were raised on values of contributing to the state, you were a member of a family of fighters, the salt of the earth. As we prayed by your hospital bed, your mother point4ed at the family members and said, 'They're all fighters, but Ronen is the finest one.' Mother was right. You were one of the finest fighters in the company and in the unit.

"You were part of the team's leading force, one of the first to face the enemy. You took part in many operations to hunt down terrorists and you were at the forefront of the IDF against terror in Judea and Samaria. Nevertheless, you did all this modestly and professionally. You fought for several days against all odds, from the serious injury at the refugee camp to this morning at the hospital.

"You died the death of a hero during operation activity to defend the State of Israel's residents. You shut your eyes in an operation which symbolizes more than anything your contribution to the State of Israel's defense. Rest in peace. We are proud of you and your work, we hurt and we salute you."

Ronen's brother, Arik, said: "Dear brother, tell me, how did we reach this weird situation? Although you were so modest, and I am nothing compared to you, I will now become a much better person thanks to you. Everyone is talking about you, everyone loves you. You are such a hero, such a champ. You always fought.

"They say free choice is the strongest human trait, and you chose your entire life. You walked through every closed door. Wherever you heard no, you said yes, and you were better than anyone. In school, in soccer, in your studies, in Krav Maga, and finally in the IDF. And I'm certain that you chose this moment too. I have no doubt about it. And I'm happy about it. I know you didn't suffer and I'm very proud of you.

"Unfortunately, IDF soldiers are dealing with the threats you experienced every day and every night. Wild animals await them on the rooftops. I breathed with them, I am with them in blood now. Duvdevan and IDF soldiers are forced to deal with washing machines and bricks being thrown on them. I pray to God that our leaders, who I love, will do something about it.

"I turn to the people of Israel, who have given my family a huge embrace which I didn't believe existed. Our biggest victory is living a full life, for my little brother and for all the heroes buried on this mountain. Live your life with joy, faith, love. Even on these difficult days, I wake up and I'm just happy with what I see around me. I expect you all to do the same, for my brother and for all those who have fallen for us. Take something good upon yourself, something small, and slowly, thanks to our deeds, there will be less and less funerals. Ronik, I love you, I salute you. You're a hero."

Deputy Defense Minister Eli Ben Dahan said, "Since your injury, people have been praying for you everywhere. You chased murderous terrorists, so that we would be able to walk around quietly and safely everywhere in the country. Thanks to your dedication, your brothers in Haifa and Be'er Sheva, in Beit El and in Gush Etzion, are able to live their life peacefully.

"I call on the Arabs living in Judea and Samaria: You can choose the path of peace and enjoy it, but whoever chooses the path of terror and murder should know he will encounter a fortified wall. You won't scare us.

"Ronen, I spoke to the commander of your team. I want all the people of Israel to know what a hero you were, what an outstanding soldier. In the name of your fellow unit members, in the name of the IDF, in the name of the entire defense establishment, I stand here and promise you: We won't rest until we catch whoever hurt you. Dead or alive, they will be caught and punished."