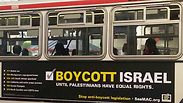 British universities oppose an academic boycott of Israel, according to a statement made last week by the head of the international arm of the University Association of Britain and the President of Exeter University, Sir Steve Smith.

During a meeting between representatives of British universities and the heads of universities in Israel, Smith emphasized to the heads of the latter the "commitment of the British Universities Union against any academic boycott with an emphasis on Israel and the importance of not allowing political or other issues to harm the cooperation between the institutions."

The explicit resistance by Britain comes in the wake of several attempts to implement an academic boycott of Israel. Such calls were made by university heads and senior officials in the higher education system in Norway, Ireland and the United States, among others.

In addition to what he told the Israeli academic leaders personally, Smith also sent a written statement on the subject to the British Universities Union, which was approved in 2015, and which also strongly opposes an academic boycott of Israel.

"The British University Committee is committed to the free sharing of ideas between universities and in academia," the statement said, "regardless of nationality and place. Therefore the committee strongly opposes an academic boycott on the grounds that it is hostile to academic freedom, including academic freedom to cooperate with one another."

It further stated that "the committee wishes to ratify its previous position regarding the boycott of Israeli universities."

Tel Aviv University President Prof. Joseph Klafter and the British Minister of Universities, Science, Research and Innovation Sam Gyimah published a joint statement emphasizing the importance of cooperation between the two countries.

"We welcome any statement condemning the phenomenon of an academic boycott of Israel," said Prof. Klafter, "and call upon the European university unions to adopt similar statements."

Last week, the Council for Higher Education approved the university's code of ethics, granting independence to Israeli academic institutions to apply it in accordance with their worldview. In this context, the most relevant section of the code is a ban on support by Israeli scholars and lecturers of academic boycotts of Israel.