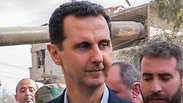 Syrian President Assad
Photo: AFP
Assad: Israel, Russia not coordinating on Iranian pullout from south Syria
Syrian president insists 'Russia never coordinated with anyone against Syria, either politically or militarily,' adding 'how could they help the Syrian Army advancing and at the same time work with our enemies in order to destroy our army?'
Syrian President Bashar Assad continues insisting there is no coordination between Russia and Israel on the withdrawal of Iranians forces and their proxies from the Golan Heights.

"Russia never coordinated with anyone against Syria, either politically or militarily, and that's contradiction; how could they help the Syrian Army advancing and at the same time work with our enemies in order to destroy our army?" Assad told The Mail on Sunday in an interview.

A week and a half ago, the Britain-based Syrian Observatory for Human Rights said Iranian advisers and Hezbollah fighters were preparing to withdraw from the southern regions of Daraa and Quneitra near the Golan Heights.

The Russian newspaper Kommersant, meanwhile, reported that Defense Minister Avigdor Lieberman and his Russian counterpart Sergey Shoygu agreed that Iranian and Hezbollah forces would withdraw from southern Syria, and in return Israel will not interfere when Assad's forces enter the area to fight the rebels.

Both Syria and Israel have denied these reports.

Asked about Russian and Iranian forces in his country, the Syrian president reiterated that "The Russians were invited by the Syrian government, their existence in Syria is a legitimate existence, the same for the Iranians."

He decried interference by Britain, France and the US, accusing the UK of "publicly support(ing) the White Helmets that are a branch of Al-Qaeda, al-Nusra, in different areas of Syria," and adding the UK and France were "political satellites to the US."

"It's not the role of the West to tell us who's responsible in Syria," he stressed. "This is a Syrian issue; we decide who."

He blamed the Western nations for the hundreds of thousands of deaths in the civil war in Syria.

"When you talk about war, the natural and the self-evident result is death and blood everywhere, but the question is: who started this war, and who supported this war? The West. The West supported the war from the very beginning, and it supported the terrorists who started exploding everywhere and killing everywhere and everyone and beheading. The West supported Al Qaeda," he argued.

Assad also accused the West of prolonging the war. "I have always said that in less than a year we can solve this conflict, it's not very complicated. What has made it complicated is the external interference," he asserted. "The more we advance, the more support the terrorists have from the West... But in spite of this, we are closing the gap."

Assad will finish his current term as Syria's president in three years, but he said it's too early to determine if he runs for another term.

"It's still early to talk about it... If I'm going to run for the presidency, there are two factors: First of all, will – personal will to take responsibility, and second – which is the most important, the will of the Syrian people," he said.