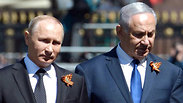 Russian President Putin (L) and PM Netanyahu
Photo: Amos Ben Gershom/GPO
Israel aims to get Russia to agree to clearing Syrian border of Iranians
Defense Minister Lieberman's trip to Russia intended to reach security understandings to return control of border area to Syrian army, without the presence of Iran, Hezbollah forces; while Russia iterated support for notion, PMO stresses Iran should pull out all of Syrian territory.
Despite the security escalation on the Gaza border, Defense Minister Avigdor Lieberman embarked for Russia Wednesday, heading a defense establishment delegation in an attempt to reach an agreement to return control of southern Syria, and particularly the border with Israel, to Syrian President Bashar Assad's forces.

Defense Minister Lieberman will be accompanied by the head of the Military Intelligence Directorate, Maj.-Gen. Tamir Hayman, among others.

Russia was said to have accepted Israel's fundamental demand for Assad's army to resume control of the border region without the presence of any pro-Shiite militias.

Lieberman will meet his Russian counterpart Sergey Shoygu Thursday, and his trip is considered an important attempt to reach understandings with the superpower on the matter, an issue that may have ramifications on ameliorating tensions along the northern front.

The need to engender such understandings in the first place was born of preparations by Assad's army to return to southern Syria and take position along the border with Israel.

While Jerusalem consented to the army's returned, they conditioned it on Iranian and Hezbollah forces not accompanying it.

Confirmation for the nascent understandings came Monday in Russian Foreign Affairs Minister Sergey Lavrov's statements, who explicitly stated that no foreign troops will be stationed along the Israeli border except for Syrian army soldiers.

The encouraging Russian statements notwithstanding, the Prime Minister's Office was quick to clarify that Israel never consented to Iranian forces remaining elsewhere in Syria, and reiterated Israel's demand for a full withdrawal of all Iranian and Hezbollah forces from the country.

"Israel is uninterested in partial agreements, rather in an exit of all Iranian forces from Syria," a source at the Prime Minister's Office said.

Concurrently, Israel's National Security Adviser Meir Ben-Shabbat left for Washington to discuss a coordinated stance with the United States on the challenge posed by Iran, in the wake of US President Donald Trump's withdrawal from the nuclear deal and the 12 condition plan presented to Iran by Secretary of State Mike Pompeo.
Netanyahu to leave for 3-day European trip next week
More on the diplomatic front, Prime Minister Benjamin Netanyahu will leave next week for a three-day visit to Germany and France starting Monday, during which he will meet with German Chancellor Angela Merkel and French President Emmanuel Macron to discuss the Iranian nuclear threat and Tehran's entrenchment in Syria.

The premier is also said to be mulling continuing across the English Channel from Paris to London, to meet with British Prime Minister Theresa May.

Prime Minister Netanyahu outlined his upcoming trip at the outset of his Likud Party meeting Monday, saying, "Next week I will leave for Europe. I will meet with German Chancellor Angela Merkel, with French President Emmanuel Macron and perhaps with British Prime Minister Theresa May as well."

"I will discuss with them blocking Iranian nuclear aspirations and Iranian expansion in the Middle East," the premier expounded. "I will present our positions as clearly as possible. We are already well experienced. For years we stood alone against these twin threats, and I think that the situation has changed for the better. Of course I will present these matters as vital to the security of Israel."

On Syria, Netanyahu said, "We believe that there is no room for any Iranian military presence anywhere in Syria. And of course, this reflects not only our position; I can say with certainty that it also reflects the positions of others in the Middle East and outside it. This will be the main focus of discussions there."