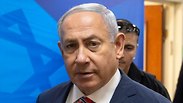 Prime Minister Netanyahu
Photo: EPA
Netanyahu: Removing Iranian forces from Syria 'is a process'
Commenting on his meetings with Merkel, Macron and May last week, the prime minister says he 'focused on Iranian aggression in our region and primarily Iranian entrenchment in Syria' and that the goal of reaching international understandings about the matter was achieved 'to a large extent.'
Prime Minister Benjamin Netanyahu said Sunday that removing Iranian forces and their proxies from Syria "is a long process."

"I made it clear that we will take strong action against attempts to establish a presence against us, and also against attacks on us," Netanyahu said at the start of the weekly Cabinet meeting.

Earlier, Syrian President Bashar Assad claimed in an interview with the Mail on Sunday that Russia and Israel are not coordinating the withdrawal of Iranian forces and their proxies from the Golan Heights.

"Russia never coordinated with anyone against Syria, either politically or militarily, and that's contradiction; how could they help the Syrian Army advancing and at the same time work with our enemies in order to destroy our army?" Assad said.

Netanyahu also spoke about his trip to Europe last week, where he met with German Chancellor Angela Merkel, French President Emmanuel Macron and British PM Theresa May.

"I visited Europe and spoke to three main leaders there. I concentrated on the Iranian aggression in our region, on the latest developments in our region and—first and foremost—on Iran's efforts to establish a military presence in Syria," he said.

"The leaders agreed with the main goal that I set, and this is formulating a broad international agreement that Iran needs to leave Syria, from all of Syria. This was the goal of the trip and it was, to a large extent, achieved."




Last month, Russian newspaper Kommersant reported that Defense Minister Avigdor Lieberman and his Russian counterpart Sergey Shoygu have agreed that Iranian and Hezbollah forces would withdraw from southern Syria, and in return Israel will not interfere when Assad's forces enter the area to fight the rebels.

Lieberman himself told Ynet on Sunday that "All we're interested in when it comes to Syria is the complete evacuation of Iranian and Hezbollah forces. Nothing short of that."

"This is our position, and we're having a dialogue about this with the entire international community, including Russia and the United States," he added. "I think our position is clear to everyone, to all of those involved here in the Middle Eastern arena. When we have reached an agreement and get willingness from everyone to act to remove Iranian and Hezbollah forces, then we could say we've achieved our goal."

The Wall Street Journal reported on Friday that Hezbollah and Iranian militia fighters have reportedly returned to southern Syria dressed in Syrian army uniforms and under Syrian flags.

Lieberman, however, said only "a few dozen" Hezbollah members remain in southern Syria, "who serve as advisers or goaders."