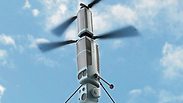 Firefly drone
Photo: Udi Etsion
An Israeli arms company has developed a new drone to counter the threat posed by incendiary kites, hundreds of which have been flown over from Gaza to Israel's southern communities over recent weeks, causing numerous fires that have ravaged farmland and trrorized residents.

The Z'vuv HaEsh (Firefly) drone, which has been developed by Rafael Advanced Defense Systems, will be presented for the first time at the Eurosatory exhibition in Paris next week, where the latest land and airland defence and security gear goes on display.

Its meager weight of just three kilograms does not come and the expense of its abilities to fly and operate in tough weather conditions, including rain and wind.

The Firefly can also be armed with a warhead weighing up to 350g and can remain in the air for up to 15 minutes before crashing and exploding into an enemy outpost or anti-tank missiles depot. Alternatively, it can be flown through a window of an enemy building and detonated there.

Separately assembled warheads can also be converted into observation posts, which can hover for up to 30 minutes, a comparatively long period of time.

"In experiments that we carried out with soldiers, we saw the revolution it represented for them," explained Gal, a member of the Rafael Land Division.

"The drone enables the platoon leader to always know what is waiting for him over the hill or in the next house, without needing to split up his forces who would then need to cautiously proceed under cover from his comrades," he added.

While every anti-tank missile costs tens of thousands of dollars, the price of the discreet Firefly stands at a fraction of the price.

The device will be controlled using a tablet by a commanding operator, who will be able to simply mark targets on the screen for the drone to home in on.

The new drone is also kitted with a camera suitable for both night and day, and is able to stabilize itself, saving the operator the trouble of having to get it under control in windy conditions.

Moreoverm its electric engine gives it the strategic advantage of silence, enabling it to creep up on its target until the moment it explodes.

Meanwhile, Public Security Minister Gilad Erdan has reiterated his position that Gazans caught flying the incendiary kites into Israel should receive the same treatment that terrorists receive who launch rockets and mortars across the border.

"Incendiary kites burn our fields but also constitute a real life-threatening danger. Police sappers have shown me kites that were launched from Gaza which were affixed with explosive devices," Erdan said on Saturday. "I expect the IDF to act to take out the cells who fly them."

Despite Erdan's exhortations, however, the IDF has avoided shooting at people responsible for launching the kites in order to avoid an escalation that can ensue from a rising death toll caused by the border violence.

While Erdan has called for the tough measures, the IDF is expected to present a different plan designed to avoid an escalation in accordance with directives from the political echelons, which seeks to avert another round of conflict with the Gaza Strip.

During the end of last week, 50 large fires were registered as a result of the flaming kites in various locations in Israel near the Gaza border.