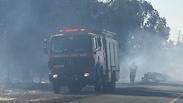 Firefighting forces near Nir Am
Photo: Israel Police
Ten different fires broke out on Saturday in Israeli communities on the Gaza border—mostly in the Be'eri and Kissufim area—as a result of incendiary kites flown from the Gaza Strip.

Two of the fires broke out in the Kibbutz Nir Am area. As a result of these blazes, police briefly closed route 34 between Sderot and the Yad Mordechai Junction.

Fire near Kibbutz Nir Am (צילום: עופר ליברמן)

Firefighting forces, security coordinators and farmers were able to gain control of all of the fires, and no one was hurt. However, damage was caused to crops and wooded areas.

Friday saw a new record with 45 fires breaking out out across the border area. Some 60 firefighters and 20 fire trucks worked to put out the flames.

Meanwhile, Gaza media reported that an Israeli aircraft, apparently a drone, attacked a group of Palestinians flying the kites in the Beit Hanoun area in the northern Gaza Strip. There were no reports of casualties.

The IDF said its aircraft fired warning shots at a group working on preparing explosive balloons. "The IDF views the use of explosive balloons and incendiary kites gravely and will act to prevent use of them," the army said.

On Saturday evening, an IDF force arrested a Palestinian suspect who was trying to cross the border fence in northern Gaza. He was caught with a slingshot in his possession.
'They're burning, and we're planting'
Residents from Gaza border communities gathered this week in Kibbutz Or HaNer for a tree-planting ceremony—their answer to the incendiary kites from the strip, which cause fires in the area, destroying tens of thousands of dunams of agricultural fields and woodlands.
The residents, in conjunction with the Keren Kayemet LeYisrael (KKL), planted dozens of trees in the kibbutz.
"The kites phenomenon completely destroyed a lot of forests and groves in our area, and we decided, as a community activity, to give back to nature what has been taken from it," said Ofir Libenstein, a member of Kibbutz Kfar Aza who is leading the initiative.
"Beyond the financial damage, there's also damage to the Gaza border residents' morale, and we have decided to come together as a community and change this reality. The residents are coming together—families and children—to plant the trees," he continued.
"This is the first of the activities, and in the coming days we will continue planting trees. We're motivated by the slogan: 'They're burning, and we're planting.'"
The residents were also joined by soldiers from the Gaza Division's Northern Brigade, led by their commander, Col. Avi Rosenfeld.
"We need to provide a response, and we will provide a response. We will continue defending the Gaza border communities. We won't grow tire and won't lose sight of our values," Col. Rosenfeld vowed.