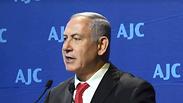 PM Netanyahu
Photo: Gil Yohanan
Netanyahu boasts Israel only Mideast country that 'welcomes gays'
Addressing an American Jewish Committee gathering, prime minister extols Israel's economic and social achievements, lauding its robust democracy and equal rights afforded to all religions and minorities; 'This is the one place in the Middle East where gays walk proudly.'
Prime Minister Benjamin Netanyahu told a Jewish advocacy group on Sunday that Israel is the only country in the Middle East that accepts the LGBT community, two days after some 250,000 people flooded the streets of Tel Aviv to take part in the annual Gay Pride Parade.

"There's only one state in the Middle East that welcomes gays … This is the one place in the Middle East where gays walk proudly on a Tel Aviv beach and participate here, in our Knesset deliberations, in our government," Netanyahu told a gathering of the American Jewish Committee (AJC), with audience members greeting his words with a round of applause.

PM Netanyahu speaks to AJC (צילום: גיל יוחנן)

"I am very proud that we have a very, very bright and rising star in our party, Amir Ohana, but there are others in other parties," he said, in reference to Likud's first openly gay lawmaker who is raising his twin children with his partner.

Israel, he said, was the only state in the region that has free and fair elections. "I know, I've been through four of them. Five actually. I lost one," he quipped.

"There's only one state in the Middle East where Jews, Christians, Muslims and others enjoy equal rights and freedom of worship guaranteed by law, and that's how it will always stay," he emphatically declared, before praising Israel's independent judiciary and and free press. "Boy, I can tell you how free it is. You wouldn't believe it," he said, soliciting a chuckle from the audience.

Netanyahu also drew attention to Israel's inclusion of women among fighter pilots, adding that "we have Christian diplomats, we have Arab Supreme Court justices and we have Druze ministers. I just appointed one, and I'm very proud of that."

Israel, he concluded, was not strong in spite of its diversity, but "because of its diversity.

Earlier in his remarks, Netanyahu cited statistics that he said he had just received from the International Monetary Fund. "Israel has just overtaken Japan in per capita income. Israel has overtaken the EU average in per capita income," he said, predicting that "I think we're going to catch up to Britain and France because we're that close."

Founded in 1906, the AJC is a leading global Jewish advocacy organization, which has brought to Israel in recent years over 6,000 diplomats, journalists and leading opinion shapers from 90 different countries.

The organization seeks to combat rising anti-Semitism and extremism and to defend Israel's international standing.