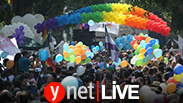 Gay Pride Parade
Photo: Motti Kimchi
250,000 people flooded Tel Aviv's streets on Friday afternoon as the city held its 20th annual Gay Pride Parade, with Tel Aviv Mayor Ron Huldai promising to "smash down legislative barriers untill there is full equality."

The parade, which is the largest of its kind in the Middle East, began at 12pm under the blazing sun on the corner of Sderot Ben Tsiyon and Bograshov Street, from where marchers headed to HaYarkon Street parallel to the sea before turning onto Frishman Street and then the Tel Aviv Promenade.

Tens of thousands of international tourists joined the sea of marchers, flying into Israel especially to take part in the parade.

The UK's Ambassador to Israel, David Quarrey, joined the marchers on a London-themed float donated by the British embassy.

Cordelia Lange, from Germany, said Tel Aviv is "a very vibrant city, it's a city that embraces everything connected to gays, lesbians and LGBT and I think it's a combination of city at the beach and good vibes."

The parade concluded at the Charles Clore Park, where a number of artists performed at the gathering, including 2018 Eurovision Song Contest winner Netta Barzilai.

Ayelet, who belongs to an organization of parents of gay and lesbian children, traveled to Tel Aviv from Ashkelon to join the parade.

"We created a body that assists and supports parents of children from the LGBT community so they are not alone," she said. "At first, parents suffer a very difficult crisis in coming to terms with it, but the most important thing for us is that their children are happy. We have to protect the the rights of the LGBT community because I also want to be a grandmother."

Chen Arieli, who chairs the The Aguda–Israel's LGBT Task Force, invited everyone to come and join the parade. "Come and be proud, as men and women, come and be more political. Come to the rally because together we will prevail over darkness. Enjoy, Tel Aviv!", she said.

Gay Pride Parade in Tel Aviv (צילום: ליהי קרופניק, עמית הובר)

Mayor Huldai also delivered his remarks as the march got underway. "I am proud to stand before you. I remember how it was 20 years ago when we began the march and I see the atmosphere of freedom here," he said while addressing the crowds.

"We have progressed a lot, but there is still a way to go. We will smash down legislative barriers so that all people are equal," he vowed. "The parade represents a moral significance that says: We are here until we reach this goal."

Also in attendance was Meretz leader Tamar Zandberg and MK Meir Ohana, Likud's first openly gay lawmaker who is raising his twin children with his partner. "It's fun to be here," he said.

"We are proud to have been marching here now for 20 years in a row," Zandberg declared. "Since the first march we have come a long way and registered may successes, but we cannot give up or let go. We will not accept a situation whereby there isn't full equality in the eyes of the law and we will not accept institutionalized discrimination on the grounds of secual orientation.

"Discrimination and hatred still exist and as long as they are here, we will also be here to fight against these dark phenomena," she continued.