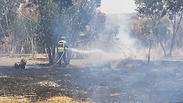 Fires in western Negev
Photo: KKL
IAF fires warning shots at Gazans launching incediary kites
As the kite terrorism continues, 3 fires break out in the western Negev, leading the IAF to target kite launchers east of Gaza City; Palestinians start flying incendiary devices from homes to avoid IDF detection, favoring balloons that can fly further.
An IAF aircraft fired warning shots Saturday at cell attempting to dispatch incendiary kites from the northern Gaza Strip into Israel.

According to a Palestinian source, the cell attempted to launch the kites east to Gaza City.

Earlier, three fires broke out in Givat Yehuda, Be'eri and Kissufim as a result of incendiary balloons flown from Gaza. Firefighters were able to gain full control of flames.

The incendiary balloon launchers have changed their modus operandi in recent days and have begun flying the balloons from private homes and back yards in an effort to avoid being spotted and thwarted by the IDF.

In addition, the Palestinians appear to be favoring balloons over kites, since the balloons can more easily get further into Israeli territory.

In an effort to combat the threat, Israeli defense technology company Rafael Advanced Defense Systems has been developing a new detection system—the Sky Spotter—to identify incendiary balloons and kites launched from Gaza.

The electro-optical system was originally developed to detect drones and was later adjusted to thwart incendiary balloons and kites.

The system has a long-range digital camera, which is able to identify the incendiary objects the minute they are flown into the air and can estimate their landing location.

The early detection will later enable drones to efficiently intercept the incendiary balloons and kites.

The situation on the Gaza border escalated on Tuesday night after the IDF attacked three targets in the southern part of the strip in response to incendiary kites and balloons flown at Israel.

Terror groups in the Gaza Strip retaliated by firing some 45 rockets and mortar shells at Israel, with some exploding in Israeli communities located near the Gaza border.

The IAF retaliated by attacking a total of 25 Hamas targets across the Gaza Strip in three waves. Eleven targets were attacked in the last wave in four military compounds of the Hamas terror organization, including an underground training facility.

Elior Levy, Yoav Zitun, Matan Tzuri and Udi Etsion contributed to this story.