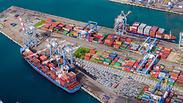 Ashdod Port. File photo
Photo: Israel Bardugo
Israel has asked Cyprus to examine the possibility of establishing a shipping point on the island for sending goods to the Gaza Strip, a Cypriot government spokesman confirmed on Tuesday.

Goods shipped by sea usually come to an Israeli port and are transferred to Gaza over land. Israel enforces a maritime blockade on Gaza to prevent weapons from reaching the territory ruled by the Islamist terror group Hamas.

Both Egypt and Israel restrict movement across Gaza's land borders as well. The United Nations has called for a freer flow of goods into Gaza, where most Palestinians live in poverty.

The idea of setting up a facility in Cyprus has been floated for years, and Israel recently made a request to explore the issue, according to Cypriot government spokesman Prodromos Prodromou.

"It is an old issue which is now being re-discussed," Prodromou told Reuters.

"There will be contacts between the government and all interested parties in the region and, possibly, a decision will be taken. At the moment no decision has been taken. The request is being examined, it hasn't been rejected," he said.

Prodromou did not say when the request was made, but Defense Minister Avigdor Lieberman visited Nicosia last week.

An Israeli news report late on Monday said Lieberman had reached an understanding with Cypriot President Nicos Anastasiades to pursue the seaport plan.

Lieberman's office, in response to the report, said that Israel is working with international players in a number of ways to try to "change the reality in Gaza," but that any move to improve the humanitarian situation depends on the return of Israelis who are missing or being held prisoner in Gaza.

"Beyond that we cannot relate to the details," it said in a statement.

Israel has demanded the return of two Israeli civilians who crossed into Gaza and are being held by Hamas, as well as the bodies of two soldiers who were killed in the 2014 Operation Protective Edge. Hamas says it is holding them but does not give any details.

Hamas officials declined to comment on the seaport plan.

At least one Israeli minister, Yuval Steinitz, has been promoting the Cyprus seaport idea as a way to create a conduit into Gaza that does not go through Israel. Minister Yisrael Katz, meanwhile, has raised the idea of building an artificial island off the Gaza coast, a much larger project.

Security checks at the piers, however, would have to be handled by Israel together with an international group, like the United Nations, Steinitz said in an interview with Reuters earlier this month.