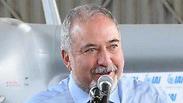 Defense Minister Avigdor Lieberman
Photo: Shahar Levy/Defense Ministry
Report: Israel-supervised Gaza seaport to be built in Cyprus
Channel 2 News says defense minister and Cypriot president have agreed to begin planning stages that would cater for Israel's security needs while facilitating Gaza's rehabilitation, but plan said to be contingent on Hamas releasing remains of IDF soldiers, captive civilians.
Defense Minister Avigdor Lieberman has struck an agreement with Cypriot President Nicos Anastasiades to begin plans to build a seaport for Gaza that will operate in Cyprus and will be supervised by Israel, according to a report on Channel 2 News on Monday evening.

According to the report, within two weeks work teams will be established and within three months, the blueprint for the construction of the seaport will be presented which will include an Israel supervision apparatus to ensure that the Gaza-ruling Hamas terror group is unable to exploit the new port for smuggling weapons into the strip.

In addition, Israel will assist the Americans in leading the humanitarian relief efforts in Gaza who intend to pump huge sums of money into the economically crippled enclave as part of an effort to dramatically improve the quality of life for its residents.

The handing of the benefits package, however, was said to have been made contingent upon Hamas returning slain soldiers held in Hamas captivity and the release of Israeli citizens who are still alive and who are being held by the terror group.

"The moment that all the details are settled and everything is locked and loaded, we will directly turn to the public in Gaza, going above the head of Hamas, and we will put the benefits package on the table in the open and tell them—this is possible, this is the price. Take it or leave it," said one security official on Monday evening.

The strategy is intended to corner Hamas by forcing it to provide an explanation to its public and to other Arab countries as to why it is preventing the rehabilitation of the devastated strip by potentially refusing deperately-needed aid.

On Friday, the three defense ministers of Cyprus, Israel and Greece agreed that they must forge deeper military ties to bolster security and more effectively counter common threats in a turbulent region.

Cypriot Minister Savvas Angelides and his Israeli and Greek counterparts Avigdor Lieberman and Panos Kammenos said they also seek to expand cooperation on cybersecurity, joint military drills and search and rescue operations in the eastern Mediterranean.

Also on Friday, Prime Minister Benjamin Netanyahu met with Jared Kushner, US President Donald Trump's son-in-law and senior aide, and Jason Greenblatt, Trump's envoy to the Middle East.

During the nearly four-hour-long meeting, Netanyahu, Kushner and Greenblatt discussed ways to alleviate the humanitarian situation in the Gaza Strip, while maintaining Israel's security, ways to advance the peace process and regional developments.