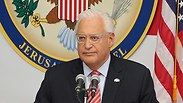 US Ambassador to Israel David Friedman
Photo: Amit Shabi
J Street, the American liberal lobby attempting to promote an Israeli-Palestinian agreement, has released a report slamming US Ambassador to Israel David Friedman, who was personally appointed by President Donald Trump.

The non-profit liberal advocacy, which defines itself as an alternative to AIPAC (the American Israel Public Affairs Committee), has been running a campaign against Trump's envoy culminating in the release of a report arguing he should be recalled to Washington.

In May 2016, Friedman said J Street's supporters were "far worse than Kapos (Jews forced to collaborate with the Nazis during the Holocaust)," accusing them of rooting for Israel's annihilation. That comment almost cost him his appointment as ambassador.

Friedman had to express remorse before the Senate for his "offensive words" and pledged to act in a diplomatic and non-partisan manner by backing the United States' official policy, which supports the two-states solution.

After his apology, and although 46 senators opposed his appointment, Friedman became the US's ambassador to Israel.

J Street's report specifies statements made by Freidman in which it says he broke his promises to the Senate, and urges Washington to recall him.

According to the report, not only did Friedman not keep his commitment to avoid "offensive remarks," but he also returned to his old ways by making a series of remarks not befitting a diplomat.

One incident, according to the report, was his inappropriate partisan remarks in an interview at the US Embassy in Israel, when he said there was no doubt that the Republican support Israel more than the Democrats do.

In addition, Friedman invited anti-Semitic Baptist priest Robert Jeffress, who is known for his racist remarks against Jews, Mormons and Muslims, to deliver a prayer at the US Embassy inauguration ceremony in Jerusalem on May 14.

Furthermore, Democrat lawmakers said Friedman had not invited them to the US Embassy inauguration ceremony and voiced their concern that US-Israel relations were becoming political.

It was also revealed that the American Friends of the Bet El Yeshiva Center, headed by Friedman, had allotted thousands of dollars to an extreme right-wing group that was dubbed by the US and Canada as a terror organization.

In February, Friedman stated before a group of Jewish leaders that the settlers (of the West Bank-ed) were "not going anywhere."

The liberal lobby demands that the ambassador be summoned to the Senate to review the series of failures in his conduct.

J Street founder Jeremy Ben-Ami said Freidman was behaving more like the settlements' spokesperson and lawyer than as the representative of American interests.

"(Friedman) uses the embassy as a tool to promote his right-wing extremist agenda" and, according to Ben-Ami, is doing the exact opposite of his commitments, which led to his appointment as ambassador by the Senate.

"Those are only part of the reasons why the senate should recall Friedman to Washington," the J Street's founder determined.

A US Embassy official offered the following comment: "J Street has taken many of the ambassador's remarks out of context. I encourage you and others to review exactly what he said. There is nothing in the position papers which is not consistent with the ambassador's testimony before the Senate.

"J Street not agreeing with the ambassador is not news and is irrelevant to his performance," the Embassy official added.