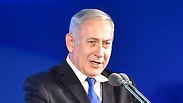 PM Netanyahu
Photo: Sharon Tzur
Netanyahu: foiling of Iranian bombing in France was 'no coincidence'
Delivering remarks at ceremony marking 70th anniversary of the Acre prison break, PM offers possible hint Israel played part in stymieing planned attack on exiled Iranian group, while calling for second time in two days on European powers to stop 'policy of appeasement and weakness regarding Iran.'
Prime Minister Benjamin Netanyahu accused Tehran of hypocrisy on Wednesday evening, adding that it was "no coincidence" that a recently planned Iranian-led attack on an Iranian group in France was foiled.

Attending a ceremony to mark the 70th anniversary of the Acre prison break, it was unclear whether the prime minister was hinting that Israel was responsible for frustrating Iranian designs.


"Against those who threaten to destroy Israel we are taking strong action to ensure the future of Israel," Netanyahu said at the Underground Prisoners Museum in Acre.

"Even when we are the few against the many and when it is necessary to stand against the entire world we do this here, in our region; we do it in the international arena, we break down wall after wall, and sometimes it is necessary to break down walls of hypocrisy," the prime minister continued.

"This week there was an example of Iran's boundless hypocrisy and brazen gall: This week the president of Iran met with leaders in Europe in order to try and overcome President Trump's sanctions regime," he added in reference to the US president's withdrawal from the Iran nuclear deal.

"And I tell you that this attempt will fail—even as Iran planned a terrorist attack on French soil in Europe. It was no coincidence that this attack was thwarted," the prime minister esoterically declared.

The Israeli premier then turned to European leaders for the second time in two days, urging them to stop financing a country which commits acts of terror on their continent.

"I call on the leaders of Europe: Stop financing the terrorist regime that is financing terrorism against you on your soil. Enough with the policy of appeasement and weakness regarding Iran," Netanyahu said.

Iran said Wednesday it will help shed light on the case of one of its Vienna-based diplomats who was arrested in Germany over the suspected plot to carry out a bomb attack in France.