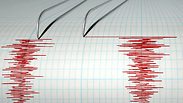 File photo
Photo: Shutterstock
Northern Israel experiences yet another earthquake
For second day in a row, 3.2 tremor felt a little after 1pm; seismologist Dr. Ran Nof explains there is no cause for alarm, as earthquakes are not a rare phenomenon; as for danger earthquakes pose to buildings, he says it 'mainly depends on the building and its infrastructure.'
A 3.2 tremor was felt a little after 1pm on Thursday in the north of the country, the Geophysical Institute of Israel said.
It followed a 4.1 earthquake felt at 4:50am Wednesday morning in northern Israel and several weaker aftershocks: a 3.2 earthquake was felt at around 4:58am, a 2.1 earthquake at 6:41am and a 3.8 at 6:52am and a 4.5 earthquake at 10:46pm.
Dr. Ran Nof, a seismologist in the Geological Survey of Israel, told Ynet that earthquakes are actually not a rare phenomenon.
"We don't see earthquakes getting stronger and more frequent. It seems unusual because we are not used to feeling earthquakes, but they occur all the time, in particularly at the Dead Sea's depths, which is a tectonic border," he elaborated.
In 2013, for example, the area experienced a similar series of low-magnitude earthquakes. "Fortunately, apart from light damage to buildings, no one was hurt," Dr. Nof added.
"A 4.5 earthquake is weak and isn't even considered a medium-magnitude earthquake; 5-5.5 earthquakes are considered as medium magnitude," Dr. Nof explained. "Earthquakes 6-7 in magnitude are considered high-magnitude."
"When an earthquake takes place, energy is released. This energy creates waves that move underground and spread over a distance. The stronger the earthquake, the further the waves spread," Dr. Nof explained.
As for the danger earthquakes can pose to buildings, Dr. Nof said it "mainly depends on the building and its infrastructure."
"In 2006, a 6 earthquake was felt in one of Iran's cities, which was almost entirely destroyed. Two days after that, a similar magnitude earthquake was felt in California and two people were hurt," he explained.
"The quality of the structure, the infrastructure, and the way the earthquake's waves spread across the building are what matters. Today's engineers know how to plan buildings that can survive high magnitude earthquakes. This technique just has to be implemented," Dr. Nof concluded.