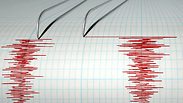 File photo
Photo: Shutterstock
A 4.1 earthquake was felt at 4:50am Wednesday morning in northern Israel, according to the Geophysical Institute of Israel.

It was followed by several weaker aftershocks: a 3.2 earthquake was felt at around 4:58am, a 2.1 earthquake at 6:41am and a 3.8 at 6:52am.

No one was hurt and no damage was reported.

The epicenter of the earthquake was in the northern Kinneret, some 10 km northeast of Tiberias, four kilometers below ground.

Bar Ben-Shabat from Tiberias said she could feel the earthquake in her room. "The earthquake was really strong. The bed was shaking. Everything it the room was shaking. It was really scary. By the time I realized this was an earthquake and that I had to get up and leave the room, it calmed down. Later there was another smaller one. The entire neighborhood is up. Some actually came out of their homes in panic."

"It was just scary," said Milna from Tiberias. "I was just in the living room, turning on the air conditioning, when all of a sudden I felt I was moving. It was simply one of the more frightening things to have happened to me. My heart just dropped. I just froze in my spot, I couldn't do anything out of fear."

Some people reported feeling the earthquake in central Israel as well. Shelly from Petah Tikvah said she felt her bed move, "and my birds woke up and started flying screeching in panic in their cage."

Others reported feeling the earthquake in Kfar Saba, Raanana and Hod HaSharon.

The earthquake was also felt in the Jordan Valley. "It was about ten seconds and it was very scary," one resident of the area said. "I live on the second floor and the building was actually shaking."

Residents in the Greater Haifa area also felt the tremors. "It lasted about 15 seconds," said Shlomo Peleg from Kiryat Motzkin. "I felt the floor shaking."