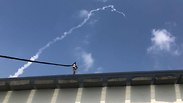 Patriot launched from Safed
Photo: Shimon Elbaz
Israel fired a Patriot missile on Friday afternoon at a UAV approaching its border from Syria, the second such an incident this week.

The Patriot was launched from Safed at around 3pm, according to residents, and a witness on the Syrian side of the frontier said the drone had been brought down.

"A Patriot missile of the IDF's (Israel Defense Forces) aerial defense system was launched towards a Syrian UAV flying over the demilitarized zone. The UAV was most likely intercepted," the military said in a statement.

Patriot fired over Safed (צילום: אייל בן סימון)

The army said the drone was intercepted over the buffer zone between the two countries.

The IDF said it will "operate against attempts to violate the 1974 Separation of Forces Agreement, threats to Israeli sovereignty and any attempt to harm Israeli civilians."

On Wednesday, a Patriot missile was fired at a Syrian drone that infiltrated 10 kilometers into Israel, prompting a rocket-alert siren to go off in several communities in the Golan Heights. The IDF intercepted the drone over the Kinneret.

After the successful interception, the IDF warned that it "will not allow any violation of Israeli airspace and will act against any attempt to hurt its civilians."

The IDF said that they tailed the drone for 15 minutes after it entered Israel from Syria. Hoping not sour a meeting between Prime Minister Benjamin Netanyahu and Russian President Vladimir Putin in Moscow. The army added that checks were simultaneously carried to ensure that the drone was not linked to Russia.

Tension on Israel's northern border has increased over the past few weeks in the wake of Syrian President Bashar Assad's forces reclaiming the Daraa province as well as targeting the Syrian Golan Heights.

On Sunday evening, the IDF reportedly attacked the T-4 military airfield in Syria's Homs province, activating Syrian air defenses, according to the Syrian news agency SANA.

At the end of last month, the IDF launched a Patriot missile in the northern Golan Heights at an incoming drone from Syria.

According to the IDF, the unmanned aerial vehicle retreated unscathed following the launching of the missile, returning to an area controlled by Syrian President Bashar Assad's forces.

Reuters contributed to this report.