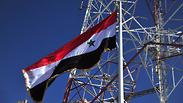 Syrian flag flown over Daraa
A day after the meeting between Prime Minister Benjamin Netanyahu and Russian President Vladimir Putin in Moscow, Yedioth Ahronoth has learned that Israel's defense establishment has demanded the Russians to remove Iranian and Hezbollah forces in Syria even further away to within 80 kilometers from the Golan border as an interim measure until the Israeli demand for a total withdrawal of the Shiite forces from Syria is met. The Russians have so far rejected this demand.

The practical implication of the Israeli demand is to eliminate any Iranian military targets within this range, in addition to the existing policy of preventing the establishment of Iranian military presence in Syria and stopping advanced weapons from entering the country.

Over the past week, another shipment of Iranian weapons that reached the T4 airbase was apparently attacked, and it is safe to assume that there were many other strikes that were not reported.

On Thursday, the Assad army completed its conquering of the Daraa district, and it now continues its offensive against ISIS forces in the southern Syrian Golan Heights.

It was from this area that the Syrian drone infiltrated Israeli territory on Wednesday. Intelligence officials believe the Syrian UAV was not on a collection mission against Israel, but rather operating against the rebels, and mistakenly entered Jordanian airspace and then continuing to the Kinneret.

Before shooting down the drone, the IDF checked whether it was a Syrian or a Russian aircraft, so as to not embarrass Netanyahu before his meeting with Putin. That is why the drone was able to stay in the air over Israel for 15 minutes before being intercepted.

In the near future, Assad will complete his takeover of the entire Syrian Golan Heights, and Israel has already set very clear rules, including no-infiltration into the buffer zone, no heavy weapons in the border area, the prevention of spillover fire into Israel, and the prevention of refugees from entering Israel.

On the other hand, Israel also sees in the arrival of Assad's forces to the Golan an opportunity to reach agreements and achieve stability, mainly because from now on, it will be clear who on the other side is responsible for every violation.

At the same time, it turns out that Iranian aid to Hezbollah has been reduced again over the past year, dropping from $850 million a year ago to $600-700 million this year. For Hezbollah, which is in the midst of an economic crisis, this is a very worrying development, especially given the fact that 4-5 years ago, Iranian aid was at about $1 billion a year.

But despite the economic pressure the Shiite organization is under, Israeli assessments are that Hezbollah will continue to focus its efforts on improving the precision of its long-range missiles, which it sees as a supreme goal.