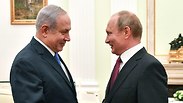 PM Netanyahu and President Putin
Photo: AFP
PM tells Putin Israel will thwart any attempt to violate its sovereignty
During meeting in Moscow with the Russian president, Netanyahu says warning applies to violations 'both in the air and on land' after IDF fires Patriot missile at drone from Syria that infiltrated 10 km into Israel; talks take place before the two watch England and Croatia play in World Cup semi-final.
Prime Minister Benjamin Netanyahu told Russian President Vladimir Putin on Wednesday that "Israel will thwart any attempt to violate its sovereignty both in the air and on land," setting the tone of another meeting between the two leaders in Moscow.

The warning by the Israeli premier came shortly after a Patriot missile was fired at a Syrian drone that infiltrated 10 kilometers into Israel, prompting a rocket-alert siren to go off in several communities in the Golan Heights.

"Every visit such as this is an opportunity for us to work together to try to stabilize the situation in our region, increase security and increase stability," Netanyahu said in Hebrew in a joint press conference with Putin.

"It is clear that our focus is on Syria and Iran. Our view that Iran needs to leave Syria is well-known; it is not new to you," he added, repeating long-standing demands.

PM Netanyahu and President Putin (צילום: לע"מ)

"Several hours ago a Syrian UAV penetrated Israel's airspace. We shot it down and we will continue to take strong action against any trickle of fire and any infiltration into Israel's airspace or territory. We expect that everyone will respect this sovereignty and that Syria will strictly abide by the (1974) Separation of Forces Agreement," he added. "The cooperation between us is a central component in preventing a conflagration and a deterioration of these and other situations; therefore, I would like to thank you for the opportunity to discuss these matters and, of course, all other issues. Truly, thank you."

While Russia and Iran have both deployed forces to Syria to help prop up Assad's government, their interests do not always converge. Russia also has maintained warm ties with Israel and demonstrated a readiness to take its security interests into account.

"We know about your concerns, let's have a thorough talk about them," Putin told Netanyahu before reporters were asked to leave the room.

Netanyahu landed in Moscow on Wednesday afternoon, where he watched the World Cup semi-final after what he described would be a "very important" meeting with Putin to discuss an array of issues concerning Israel's northern frontier.



Netanyahu was welcomed in Russia by Russian Deputy Foreign Minister Mikhail Bogdanov. The Israeli premier signed a soccer ball which has been signed by all the leaders who have visited Russia since the start of the World Cup.

Prior to his departure, Netanyahu said "I am now leaving for Moscow for a very important meeting with Russian President Vladimir Putin. We will discuss Syria, Iran and Israel's security needs."

"I very much appreciate the excellent direct connection, without intermediaries, between myself and the Russian president. It is very important for the national security of the State of Israel," he said before boarding the plane.

PM signs football upon arrival in Russia (צילום: לע"מ)

After the meeting with the Russian leader, Mr. and Mrs. Netanyahu will then view the semi-final between England and Croatia.

Associated Press contributed to this report.