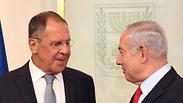 Lavrov and Netanyahu
Photo: Haim Zach/GPO
Israel rejects Russian offer to keep Iranian forces 100 km from Golan
At Russian President Putin's request, Prime Minister Netanyahu meets with high-level delegation from Moscow led by Russian FM Lavrov, telling him 'we will not allow the Iranians to establish themselves even 100 kilometers from the border.'
Israel rebuffed on Monday a new Russian offer to keep Iranian forces in Syria away from the Golan Heights ceasefire line, an Israeli official said, complicating Moscow's bid to stabilize the country amid a waning civil war.

The official, who spoke on condition of anonymity, said the issue came up during a meeting between Prime Minister Benjamin Netanyahu and a visiting Russian delegation led by Russia's foreign minister, Sergei Lavrov.

Netanyahu said a Russian offer to keep Iranian forces 100 km (62 miles) from the border was not enough, telling Lavrov "we will not allow the Iranians to establish themselves even 100 kilometers from the border."




"The Russians are speaking about (the 100-km buffer zone) and are committed to it, but we said there are also long-range weapons beyond this zone, and all those forces must leave Syria," the official said.

Israel had previously turned down a proposal by Russia, the big-power backer of Syrian President Bashar Assad, that Iranian forces be kept 80 km from the frontier, according to Israeli officials.

The Russian embassy in Israel tweeted that Lavrov and armed forces chief General Valery Gerasimov discussed with Netanyahu Assad's advance in southwest Syria and "issues related to Israel border security."

Another Israeli official described the meeting, which lasted for over two hours, as "an important meeting at a significant time in which we discussed the details of Iranian presence and activity in Syria, while presenting maps and intelligence materials, as we explained our policy to push Iran out of Syria."

The official said Israel will maintain full freedom of operations for the IDF, and detailed what the removal of Iran from Syria should entail: "First of all, all the long-range weapons must be removed from Syria; precise weapons production must be stopped; other strategic weapons, such as air defense, must be removed as well; the border crossings that allow the smuggling of these weapons must be closed, including on the Syrian-Lebanese border where weapons are smuggled into Lebanon, and the Iraqi-Syrian border through which weapons are smuggled from Iran into Syria itself."

Netanyahu announced earlier at a Cabinet meeting that Russian President Vladimir Putin had a few days ago requested the meeting with the high level delegation that also includes Russia's chief of the military's General Staff, Gen. Valery Gerasimov.

Netanyahu said they will discuss regional developments with "the situation in Syria being first and foremost."

He said he will reiterate Israel's position that it expects Syrian President Bashar Assad and his Iranian-backed allies to honor the 1974 agreement which sets out a demilitarized zone along their shared frontier, and that Israel will continue to act to stop its archenemy Iran from establishing a permanent military presence in Syria.

Israel's main concern is to keep Iran, which is fighting alongside Assad's forces, as far away from its border as possible—along with its proxy, the Lebanese Hezbollah and other militia.

Russia has warned it would be unrealistic to expect Iran to fully withdraw from the country. However, Moscow has said it wants to see the separation of forces on the frontier preserved. Lavrov's deputy, Grigory Karasin, told Russian media the foreign minister's trip was "urgent and important."

Monday's meeting comes about two weeks after Netanyahu and Putin discussed Syria and Iran in Moscow.

Hours before the meeting, Israel activated a missile defense system against rockets from the fighting in Syria it believed were heading its way.

The incident came after Israel earlier this month, twice in the same week, fired a Patriot missile at an unmanned aircraft that approached the country's border from Syria.

In June, Israel fired a missile at a drone that approached its airspace near the Syrian frontier.

Itamar Eichner and Moran Azulay contributed to this report.