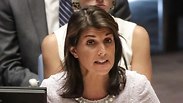 US Ambassador to the United Nations Nikki Haley
Photo: AFP
Haley tells UNSC Arab leaders 'afraid' to tell Palestinians the truth
As the Security Council convened to discuss escalating tensions in Gaza, US UN ambassador lashes countries, especially Arab states, for failing to offer more than 'cheap' talk and speeches to contribute to peace between Israel and Palestinians; 'All they do is get the international community riled up.'
US Ambassador to the United Nations Nikki Haley told the UN Security Council on Tuesday that the Palestinian leadership "has been allowed to live a false reality for too long because Arab leaders are afraid to tell them the truth."

As the Security Council convened to discuss the humanitarian situation in Gaza and the mounting violence on the border with Israel that has threatened to escalate into an all-out war, Haley denounced the international community, particularly members of the Arab state, for failing to improve the lives of Palestinians with actions, and instead offer "vitriol" against Israel and disingenuous support for the Palestinian people.

"Country after country claims solidarity with the Palestinian people … Talk is cheap. No group of countries is more generous with their words than the Palestinians' Arab neighbors," Haley said in her 8-minute address.

"But all of the words spoken here in New York do not food, cloth or educate a single Palestinian child. All they do is get the international community riled up," she lamented.

Citing the example of the United Nations Relief and Works Agency for Palestinian Refugees (UNRWA), which is facing hefty financial cuts from the US, Haley listed a number of countries which she said have lacked in generosity in supporting the organization.

"Last year, Iran's contribution to UNRWA was zero, Algeria's contribution to UNRWA was zero, Tunisia's contribution to UNRWA was zero," Haley said, highlighting a number of other countries such as Pakistan, Egypt, and Jordan whose total contribution had ranged from $20,000 - $668,000.

Nikki Haley at the UNSC (צילום: UNTV)

"How much have the Arab countries, some of whom are wealthy, how much have they given to the Palestinians? It does not come anywhere close to what the United States has done."

Israel complains that UNRWA grants Palestinian refugees special status by counting descendants of Palestinians who were either forced to leave or fled during the 1948 War of Independence.

Emphasizing that the US is concerned about the Palestinian people, Haley reminded the member states around the horseshoe table that "Palestinian needs are not an American problem any more than a Russian problem or a French problem, and they are certainly not more of an American problem than an Egyptian, Saudi, Emirati or Turkish problem."

Concluding her remarks, Haley said that she expected countries who restrict their contributions to speeches or meager financial aid "examine what your country is doing to help other than speechmaking."

"If you judge a nation's commitment to the Palestinian people by the words heard in this chamber, you might come to the conclusion that the United States has been less generous simply because we stand proudly with our ally Israel here in the UN. But once again, this conclusion would be entirely false," she said before noting the large sums of financial aid provided by the US to the Palestinians.

"Last year while Algeria was providing nothing to UNRWA and Turkey was providing $6.7 million, the United States gave $364 million. That's ten time the combined amount from every country I just named," she added.

"It is time for the regional states in particular to step up and really help the Palestinian people instead of just making speech thousands of miles away," she said.

Israel's Ambassador to the UN Danny Danon also spoke at the meeting.

"Enough is enough. Too many in the international community continue to criticize our actions while Hamas terrorizes our southern border," Danon said.

"Over 7,400 acres of land in southern Israel have been destroyed by Hamas's arson attacks. That is half the size of Manhattan. Just imagine if half of Manhattan was set on fire, if eight Central Parks were burning to the ground by the flames of terrorists," he added.

"Hamas is responsible for these acts of terror. Yet, too many in this building seem to have forgotten what Hamas truly is. Hamas is a terrorist organization. Hamas is to blame for holding hostage the entire population of Gaza."