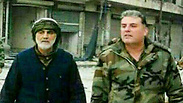 Iranian Quds Force commander in Syria
Russian envoy: Iranian forces pulled back from Golan Heights
After Israel rejected offer to keep Iranian forces 100 km from border, Russian Presidential Special Envoy for Syria Alexander Lavrentyev claims Iranians and other Shi'ite elements withdrew their heavy weapons to a distance of 85 km from the border, but Iranian advisors remains.
Iranian forces have withdrawn their heavy weapons to a distance of 85 km (53 miles) from the Golan Heights frontier between Israel and Syria, TASS news agency quoted Russia's envoy to Syria as saying on Wednesday.

Backed by Russia, Iran, and the Hezbollah Shi'ite militia, Syrian President Bashar Assad has retaken territory in southern-western Syria from rebels, bringing the pro-Assad forces in proximity to the Israeli border.

"The Iranians withdrew and the Shi'ite formations are not there," the agency quoted Alexander Lavrentyev, President Vladimir Putin's special envoy to Syria, as saying.

Lavrentyev said Iranian service personnel whom he described as advisors could be among Syrian army forces who remain closer to the Israeli border.

"But there are no units of heavy equipment and weapons that could pose a threat to Israel at a distance of 85 km from the line of demarcation", Lavrentyev said.

Israeli officials see Iranian forces and Hezbollah as a direct threat to their country's security.

"As we took into account the Israeli concerns," Lavrentyev told the Russian Sputnik news agency on Wednesday.

Lavrentyev also noted Moscow believes Israeli concerns over the presence of Iran and its proxies near the Golan border are decreasing. "Yes, of course, we are certain of this," he told Sputnik in response to a question about it.

Last week an Israeli official, who spoke on condition of anonymity, said Russia had offered to keep Iranian forces at least 100 km from the Golan Heights ceasefire line.

But Israel rejected the offer, which came during a meeting between Israeli Prime Minister Benjamin Netanyahu and visiting Russian Foreign Minister Sergei Lavrov.

The official said Netanyahu told Lavrov "we will not allow the Iranians to establish themselves even 100 kilometres from the border."

"The Russians are speaking about (the 100-km buffer zone) and are committed to it, but we said there are also long-range weapons beyond this zone, and all those forces must leave Syria," an Israeli official said.

Even before that, Israel had turned down a proposal by Russia, the big-power backer of Syrian President Bashar Assad, that Iranian forces be kept 80 km from the frontier.

Netanyahu met with a visiting Russian delegation led by Lavrov on July 23 to discuss Assad's advance in southwest Syria and "issues related to Israel border security."

Another Israeli official described the meeting, which lasted for over two hours, as "an important meeting at a significant time in which we discussed the details of Iranian presence and activity in Syria, while presenting maps and intelligence materials, as we explained our policy to push Iran out of Syria."

The official said Israel will maintain full freedom of operations for the IDF, and detailed what the removal of Iran from Syria should entail: "First of all, all the long-range weapons must be removed from Syria; precise weapons production must be stopped; other strategic weapons, such as air defense, must be removed as well; the border crossings that allow the smuggling of these weapons must be closed, including on the Syrian-Lebanese border where weapons are smuggled into Lebanon, and the Iraqi-Syrian border through which weapons are smuggled from Iran into Syria itself."

Russia has warned it would be unrealistic to expect Iran to fully withdraw from the country. However, Moscow has said it wants to see the separation of forces on the frontier preserved.