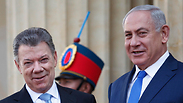 President Juan Manuel Santos and PM Netanyahu
Photo: AP
Israel has slammed what it describes as "a slap in the face by a friendly nation" after Colombia's outgoing President Juan Manuel Santos announced on Wednesday a previously-taken decision to recognize "the State of Palestine."

Santos's successor, President Ivan Duque, took office on Tuesday and was informed a few days ago of the decision, which was detailed in an August 3 letter to the Palestinian representative in Colombia, the foreign ministry said.

"This is a slap in the face by a friendly country, which goes against the close and quality relationship, especially between the states and the leaders," said a statement released by the Israeli Embassy in Colombia.

The Israeli Embassy in Bogota said it was "surprised and disappointed by the decision of the outgoing government to recognize Palestine as a state and the way in which it was done.

Jerusalem expected from what the embassy described as a "friendly government to inform its friends in advance regarding a change in policy that is so critical to the alliance between them.

"We ask the Colombian government to reverse the decision made by the previous administration in its last days, which contravenes the close relations, extensive cooperation in vital areas and interests of both countries," it said in a statement posted to its Twitter account.

The decision came to light during a visit to Colombia by United States ambassador to the United Nations Nikki Haley. She attended Duque's inauguration on Tuesday and on Wednesday visited Venezuelan migrants in the northern border city of Cucuta.

Colombia's new government said it would review the decision.

"Given possible omissions that could come to light about the way in which this decision was taken by the outgoing president, the government will cautiously examine its implications and will act according to international law," new Foreign Minister Carlos Holmes said in a statement.

Santos decided to recognize Palestine as a "free, independent and sovereign state," according to the letter, which was circulated to reporters by the foreign ministry.

"Colombia follows the Israeli-Palestinian conflict. We are aware of the difficult situation of the Palestinian people and we think that in order to facilitate the creation of a Palestinian state, there must be unity within the people," Santos's letter read. "The best way to end the conflict in direct negotiations between Israel and Palestine."

"Just as the Palestinian people have a right to constitute an independent state, Israel has a right to live in peace alongside its neighbors," the letter said.

Colombia abstained in December from a vote by the 193-member UN General Assembly on a resolution calling for the United States to drop its recognition of Jerusalem as Israel's capital. US President Donald Trump had threatened to cut off financial aid to countries that voted in favor.