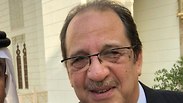 Egypt's intel head said to have met Israeli officials in Tel Aviv
Al-Hayat newspaper reports that Abbas Kamel visited the city on Wednesday in a bid to flesh out the final details of an Egyptian-brokered long-term ceasefire with Hamas after months of daily skirmishes; Palestinian official says deal may be signed on Friday.
Head of the Egyptian intelligence, Abbas Kamel, met with Israeli officials in Tel Aviv on Wednesday in order to finalize the details of a long-term ceasefire deal with Hamas which may be announced on Friday, Al-Hayat newspaper reported.

Egypt has played a critical role in recent months in a bid to broker a lasting ceasefire between Israel and Hamas as tensions threaten to thrust the two warring sides into yet another military conflict.

One of the core issues under discussion is the future release of captive Israeli civilians and the remains of fallen soldiers in exchange for several humanitarian projects in Gaza.


On Thursday, Kamel is to travel from Tel Aviv to Ramallah for a meeting with Palestinian Authority President Mahmoud Abbas.

Ramallah officials told Al-Hayat that Kamel is to discuss both the Hamas deal as well as the pacification among Palestinian factions acting outside the terror group's authority.

"A possible deal will be signed tomorrow (Friday) in the presence of all the Gaza factions," a Palestinian official said.

Kamel's visit follows two Hamas and Islamic Jihad expeditions to Cairo that discussed the agreement's details. Other Gaza officials are to travel to Cairo on Thursday in order to further discuss the details.

Azzam al-Ahmad, a member of the Palestinian Liberation Organization (PLO) executive committee, criticized the Israel-Hamas deal and called it "a betrayal of the Palestinian people and its national aspirations."

In his interview with a Palestinian radio station al-Ahmad added that "what is happening is not negotiations but rather a resolution festival," and stated that "our government has no time for futile celebrations, not all factions participated in the talks and we were surprised to discover the names of some movements that did participate."

On Wednesday, during a PLO central council meeting, President Abbas attacked the US government, denouncing its members "liars."

"How come the Americans have all of a sudden remembered the humanitarian situation in Gaza? Where have all these humanitarian projects come from?" Abbas said.

"We will continue to fight against Trump's 'deal of the century'- until it is canceled,", he added, emphasizing the American policy policy is aimed at putting Gaza at the central stage.

On Monday, it was reported that Prime Minister Benjamin Netanyahu had secretly met with the Egyptian president Abdel Fattah al-Sisi, but no confirmation was given by Netanyahu's office.

Ten News reported that the meeting between the two took place in Egypt, on May 22. Netanyahu flew to the meeting with only a handful of advisors and security personnel. He participated a Ramadan Iftar dinner and returned to Israel after a few hours, late at night.

According to the report, government ministers knew nothing of the Netanyahu-al-Sisi meeting.

A Palestinian official involved in the diplomatic channels involving Israel, Hamas and Egypt said that the discussions, dubbed "quiet on condition of quiet", were held between Netanyahu and al-Sisi in Cairo.

On Wednesday, Defense Minister Avigdor Lieberman posted on the Coordinator of Government Activities in the Territories' (COGAT) Facebook page a message to the people of Gaza, telling them that peace is in their own interes.

"I differentiate between the Hamas leadership and regular Gaza residents," he wrote on the Arabic Facebook page of COGAT.

"That is why I've decided to reopen the Kerem Shalom crossing and expand the fishing zone back to 9 miles as a clear message to the residents of the strip: Calm pays off and violence does not," he added. "The Gaza residents have something to gain when Israeli citizens enjoy quiet and security, and something to lose when this quiet is broken."