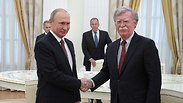 Bolton meets with Putin in Moscow
Photo: EPA
Trump adviser Bolton: Russia 'stuck' in Syria, Iran must leave
While Russian President Putin told US he could not force the Iranians to leave Syria, 'he also told us that his interest and Iran's were not exactly the same,' US national security advisor says, adding prerequisite for US help in resolving Syria crisis is Iranian withdrawal from country.
Russia is "stuck" in Syria and looking for others to fund its post-war reconstruction, US National Security Adviser John Bolton said, describing this as an opportunity for Washington to press for Iranian forces to quit the civil war-wracked country.

Bolton, speaking to Reuters while on a visit to Israel, said US contacts with Russia did not include any understanding over a push by Damascus's forces against the rebels in Idlib. But he warned against any use of chemical or biological weapons there.

Under President Donald Trump, the United States has sought to disengage from Syria, where the previous administration deployed some troops and gave limited support to rebel Kurdish forces over the objections of NATO partner Turkey.

Bolton sidestepped a question on whether these measures would continue, framing the US presence as objective-based.

"Our interests in Syria are to finish the destruction of the ISIS territorial caliphate and deal with the continuing threat of ISIS terrorism and to worry about the presence of Iranian militias and regular forces," he said in an interview. "And those are the issues that keep us there."

Russia, Syrian President Bashar Assad's big-power backer, says it is committed to destroying Islamic State insurgents but has been more circumspect about the involvement of Iran, another foreign power reinforcing Damascus.

Bolton said that Russian President Vladimir Putin, who met Trump in Helsinki on July 16, had told the United States that Moscow could not compel the Iranians to leave Syria.

"But he also told us that his interest and Iran's were not exactly the same. So we're obviously going to talk to him about what role they can play," said Bolton, who meets his Russian counterpart, Nikolai Patrushev, in Geneva on Thursday.

"We're going see what we and others can agree in terms of resolving the conflict in Syria. But the one prerequisite there is the withdrawal of all Iranian forces back in Iran."

Washington wields leverage in its talks with Moscow because "the Russians are stuck there at the moment," Bolton said.

"And I don't think they want to be stuck there. I think their frenetic diplomatic activity in Europe indicates that they'd like to find somebody else, for example, to bear the cost of reconstructing Syria—which they may or may not succeed in doing."

The Idlib region, a refuge for civilians and rebels displaced from other areas of Syria as well as powerful jihadist forces, was hit by a wave of air strikes and shelling this month, in a possible prelude to a full-scale government offensive.

Asked if there was any US-Russian understanding about such an operation, Bolton said: "No. But we're very concerned as we look at the military situation and we want to be unmistakeably clear to Assad that we expect there will be no use of chemical weapons or biological weapons if there are any additional military hostilities in Idlib."

In April, the Trump administration mustered a coalition of US, French and British forces to attack Syrian government facilities related to the production of chemical weapons after a poison gas attack killed dozens of people in Douma district.

Damascus, endorsed by Moscow, has denied using such weapons.

Asked how the United States might respond should there be a chemical or biological attack on Idlib, Bolton said only: "Strongly."
Iran sactions more effective than expected
On Iran, Bolton said the reimposed US sanctions have been more effective than expected.
"Let me be clear, the reimposition of the sanctions, we think, is already having a significant effect on Iran's economy and on, really, popular opinion inside Iran," Bolton said.
The Trump administration slapped back sanctions this month after withdrawing from the 2015 international nuclear deal with Iran, which Washington regards as insufficient for denying Tehran the means to make an atomic bomb and as a spur for its meddling in neighboring Middle East countries.
The US turnaround outraged Iran, which has taken a defiant stance, and has rattled other world powers where some businesses have been debating whether to divest from the Islamic Republic.
The Iranian economy has been beset by high unemployment and inflation and a rial currency that has lost half its value since April. The reimposition of sanctions could make matters worse.
Thousands of Iranians have protested in recent weeks against sharp price rises of some food items, a lack of jobs and state corruption. The protests over the cost of living have often turned into anti-government rallies.
"I think the effects, the economic effects certainly, are even stronger than we anticipated," Bolton said. "But Iranian activity in the region has continued to be belligerent: what they are doing in Iraq, what they are doing in Syria, what they are doing with Hezbollah in Lebanon, what they are doing in Yemen, what they have threatened to do in the Strait of Hormuz."
The Strait is a strategic waterway for oil shipments which Iran's Revolutionary Guards have threatened to block in response to Trump administration calls to ban all Iranian oil exports.
Washington imposed new sanctions on Iran in August, targeting its trade in gold and other precious metals, purchases of US dollars and its car industry. Trump has said the United States will issue another round of tougher sanctions in November that will target Iran's oil sales and banking sector.
Germany called on Tuesday for Europe to set up payment systems independent of the United States if it wants to save the Iran nuclear agreement.
European powers have been scrambling to ensure Iran secures enough economic benefits to persuade it to stay in the deal. This had proven difficult, with many European firms wary of far-reaching financial penalties by the Trump administration. French oil group Total pulled out a major gas project in Iran.
"We expect that Europeans will see, as businesses all over Europe are seeing, that the choice between doing business with Iran or doing business with the United States is very clear to them," Bolton said.
"So we will see what plays out in November. But the president (Trump) has made it very clear—his words—he wants maximum pressure on Iran, maximum pressure, and that is what is going on."
He added: "There should not be any doubt that the United States wants this resolved peacefully, but we are fully prepared for any contingency that Iran creates."
The pact between Iran and world powers lifted international sanctions that had been throttling the Iranian economy. In return, Iran accepted restrictions on its nuclear activities, increasing the time it would need to produce an atomic bomb if it chose to do so. It has long denied having any such intent.