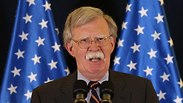 John Bolton in Jerusalem press conference
Photo: Amit Shabi
Bolton: Trump's Jerusalem recognition was not 'an issue of quid pro quo'
After US president says Israel will pay a 'higher price' in peace negotiations in exchange for December declaration, national security advisor tells Journalists in Jerusalem that move was never intended to solicit concessions from Israel, but parties will 'decide between themselves what the price of that, if anything, was'; says no timetable set for unveiling peace plan.
US National Security Advisor John Bolton said on Wednesday that recent comments by President Donald Trump that Israel would have to pay a "higher price" in future peace negotiations in return for his recognition of Jerusalem as the country's capital, were not intended to indicate that the December declaration was "an issue of quid pro quo."

Speaking at a press conference in Jerusalem's King David Hotel during his diplomatic visit to Israel to discuss a range of Middle East issues, Bolton was asked to address Trump's comments in a speech delivered at a campaign rally in Charleston, West Virginia in which he said "But they'll (Palestinians) get something very good because it's their turn next. Let's see what happens."


Bolton, however, attempted to clarify Trump's position about what the "higher price" may entail.

"As a dealmaker, as a bargainer, he would expect, you would expect, I would expect that the Palestinians would say 'OK, great. So, we didn't get that one and now we want something else. And we'll see how it goes," Bolton responded.

"But the fundamental point is that ultimately this is something that the parties are going to have to agree on … When the parties talk about it and agree, they'll decide between themselves what the price of that, if anything, was."

John Bolton's press conference in Jerusalem (צילום: אלכס גמבורג)

Bolton also said that there is currently no timetable for releasing the administration's much-anticipated Mideast peace plan, despite repeated reports that the US's unveilng of the plan is imminent.

While he said that a "lot of progress" has been made, Bolton refused to speculate what the plan entailed or when it may be publicized.

The Trump administration recently began staffing its Mideast policy team ahead of the plan's expected release.

Trump officials have long promised the most comprehensive package ever put forward toward resolving the Israel-Palestinian conflict.

The Palestinians have indicated they consider it a non-starter given what they describe as Trump's bias toward Israel and his unilateral recognition of Jerusalem as its capital in December last year.

"I think there's been a lot of progress on relations in the region as a result of the process of going through the possible outlines of what the plan would look like," Bolton said.

"I think there are have been dramatic geo-strategic changes in the Middle East with the recognition that the Iran nuclear deal has failed and failed badly. And so that gives the possibility of alignment with Israel and many of its Arab neighbors that nobody would have predicted years before," he continued.

Turning to the US's decision to reimpose sanctions on Iran which went into effect this month after President Trump pulled out of the Iran nuclear deal in May, Bolton insisted that the measures were not intended to set the wheels in motion for a regime change in Iran.

"Just to be clear, regime change in Iran is not American policy. But what we want is massive change in the regime's behaviour," Bolton said

Bolton, who has in the past suggested the US government should push for a change in government in Iran, said in May that that was not part of the Trump administration's policy.

The Iran nuclear deal, Bolton argued, "gave this regime that's been the central banker of international terrorism since 1979, new assets that it could use for its nuclear weapons program, for its ballistic missiles program, for its terrorist support activities, for its conventional military activities."

The US sanctions, he noted, are having a strong effect on Iran's economy and popular opinion

The US turnaround ojn the nuclear deal outraged Iran, which has taken a defiant stance, and has rattled other world powers where some businesses have been debating whether to divest from the Islamic Republic.

"Let me be clear, the reimposition of the sanctions, we think, is already having a significant effect on Iran's economy and on, really, popular opinion inside Iran," Bolton told Reuters in a separate interview.

The Iranian economy has been beset by high unemployment and inflation and a rial currency that has lost half its value since April. The reimposition of sanctions could make matters worse.

Thousands of Iranians have protested against sharp price rises of some food items, a lack of jobs and state corruption. The protests over the cost of living have often turned into anti-government rallies.

"I think the effects, the economic effects certainly, are even stronger than we anticipated," Bolton said.

"But Iranian activity in the region has continued to be belligerent: what they are doing in Iraq, what they are doing in Syria, what they are doing with Hezbollah in Lebanon, what they are doing in Yemen, what they have threatened to do in the Strait of Hormuz."

The Strait is a strategic waterway for oil shipments which Iran's Revolutionary Guards have threatened to block in response to Trump administration calls to ban all Iranian oil exports.

The Trump advisor also defended Israel's right to launch strikes on missiles or "other threatening weapons" brought into war-torn Syria by Iran as "a legitimate act of self defense on the part of Israel."

Reuters and Associated Press contributed to this report.