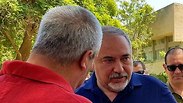 Defense Minister Lieberman
Photo: Roee Idan
Lieberman: I don't believe in an agreement with Hamas
As Israel and Hamas engage in Egyptian-mediated talks to reach long-term ceasefire, defense minister tells southern regional leaders there's nothing to talk about with terror group since its 'fundamental aim' is Israel's destruction; says quiet will be met with 'economy', terror will be met with 'no economy.'
Defense Minister Avigdor Lieberman said Friday that he does not believe in reaching an agreement with the Hamas terror group, as Israel works to achieve a ceasefire to end months of fighting that has repeatedly brought the two sides to the brink of war.

"I am not involved in the arrangement, I don't believe in the arrangement and the only arrangement is reality on the ground," Lieberman said during a visit to Kibbutz Kissufim adjacent to the Gaza Strip where he met with regional leaders.

The comments came ahead of expected weekly demonstrations by the Palestinians in Gaza on Friday afternoon, which have almost invariably descended into violence as rioters throw rocks, launch incendiary balloons and hurl improvised explosives, prompting IDF soldiers to open deadly fire against what Israel says are ringleaders.

"Over the last few days, we have seen that Hamas is in complete control of what goes on here. All the violence has decreased to almost zero," he stated.

"I am trying to form the equation between security quiet and economy. If there's terror, there's no economy. If there's no terror, there will be an economy," the defense minister explained.

"There has to be a direct connection. That is the important message that we are trying to communicate to the Gaza residents, to the average Gazan who is concerned with making a living and who thinks about how to provide for his family," he continued.

"Therefore, if there is quiet this Friday, the (Kerem Shalom) border crossing will remain open. If there is no quiet, it will be closed."

On Wednesday, Lieberman sent a message to Gaza residents after reopening the Kerem Shalom border crossing, following a temporary closure in retaliation for unabated violence. Medical supplies and humanitarian goods were still permitted to enter the strip.

On Monday, Israel announced that it was closing the main commercial crossing and limiting the Palestinian coastal enclave's fishing zone in a crackdown targeting the Hamas terror organization responsible for border protests now in their fourth month.

Illustrating his point, Lieberman noted that in the past few days, hundreds, if not thousands, of trucks had crossed the Kerem Shalom crossing each day since it had reopened "because there was complete quiet. Therefore there is a correlation."

Anyone who intended to disrupt the prevailing quiet, he emphasized, must understand that it would only led to the crossing's renewed closure.

Nevertheless, the defense minister doubled down on his insistence that there was little meaning in holding discussions with Hamas.

"The fundamental aim of the Hamas terror organization is the destruction of the State of Israel, and that's why I don't think we have anything to talk about with Hamas," Lieberman said.

"We are speaking through Egypt and through others and Hamas understands this. There is not, and there will not be any progress and there will be no new arrangements beyond the crossings and fishing zones until a solution is reached on the issue of the captive soldiers and civilians," Lieberman said in reference to two fallen IDF soldiers who remains are being held by Hamas and two Israeli civilians languishing in the strip.

"We must bring Hamas around to the understanding that if they want to move forward in any area, then the first thing is about the missing soldiers and civilians."

The defense minister reiterated that Hamas must renounce its central goal of destroying Israel, cease its attempts to build up militarily, and stop behaving in "a completely unreasonable way."

"Even the little budget it gets it invests in tunnels and rocket production and they leave the entire issue of water and education and health to the international community and to others. It is not something we will tolerate and we will do, first and foremost, everything we need to in accordance with Israel's security interests."

Lieberman also shared a small anecdote with his listeners about advice he received from former prime minister Ariel Sharon.

"He said to me 'listen, when you are strong and the power is in your hands, speak calmly and quietly. When you need to hit, give the strongest and most painful blow.' So when we decide that there is no choice and we need to lead a military move, we will do what we need to do. We will decide the timing and we will decide the conditions," Lieberman said.