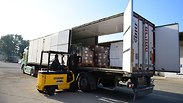 Israel shuts down Kerem Shalom crossing
Photo: IDF's Spokesperson's Unit
Israel said on Monday it was closing the Gaza Strip's main commercial crossing and limiting the Palestinian coastal enclave's fishing zone in a crackdown targeting the Hamas terror organization responsible for border protests now in their fourth month.

"We will crack down immediately on the Hamas regime in the Gaza Strip. In a significant move, we will today shut down the Kerem Shalom (border) crossing," Prime Minister Benjamin Netanyahu said during a Likud faction meeting.

An IDF statement said Kerem Shalom would remain open for the transfer of specially approved humanitarian goods. It also said Gaza's fishing zone would revert to 11 km (6 miles) after it was temporarily expanded to 17 km (9 miles).

The IDF statement, and separate remarks by Defense Minister Avigdor Lieberman, linked the new measures to fires from incendiary kites and helium balloons that have been flown over the border since the protests began on March 30, consuming swathes of Israeli farmland.

Fires sparked in Kibbutz Or HaNer amid incendiary balloons (צילום: אלדה נתנאל)

Israel says it has lost 7,000 acres of forests and farmland to the kite or balloon-set fires.

Organizers say the Gaza border demonstrations are expressions of popular frustration that aim to press demands such as for Palestinians' right to lands lost to Israel in the 1948 War of Independence and for an Israeli-Egyptian blockade on Gaza to ease.

"We do not intend to continue absorbing and continuing with this situation," Lieberman said in separate comments to his own Yisrael Beytenu party.

Israel, which last fought a Gaza war with Hamas in 2014, does not seek a new military flare-up, he said, "but the way Hamas is conducting itself—it is simply liable to spiral out of control, and it is liable to pay the whole price, a much, much heavier price than in the 2014 Operation Protective Edge".

Israel briefly shut Kerem Shalom in May after dozens of Palestinian torched some of the terminal's facilities on the Gaza side of the border.

On July 5, a US special envoy to the Middle East, Jason Greenblatt, tweeted a picture of repair work at Kerem Shalom and accused Hamas in the "deplorable attack" on the terminal.

The administration of US President Donald Trump has been watching Gaza closely as it seeks to improve humanitarian conditions while sidelining Hamas, which is blacklisted as a terrorist group in the West.