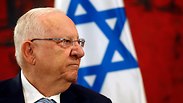 President Reuven Rivlin
Photo: AP
South Korea has recently rejected an official visit of President Reuven Rivlin to the country, providing no explanations and leaving Jerusalem surprised.

Rivlins' visit was planned to take place this year or during the upcoming year.

Ynet learned that Chaim Choshen, the Ambassador of Israel to Korea, has proposed the visit on behalf of the Foreign Ministry and in coordination with the President's Residence.

The South Koreans did not explain their refusal, but their rejection was undeniable.

Some argue it is clear that S.Korea's refusal is not a personal statement against Rivlin, but there is disagreement over its cause.

There are those who believe that the refusal stems from South Korea's growing frustration over Israel's continued rejection of important security deals, such as the four 1,200-ton security ships designed to protect Israel's offshore natural-gas drilling platforms.

Instead of the South Korean Hyundai conglomerates, Israel chose the German conglomerate ThyssenKrupp, according to information presented in the submarine scandal investigation, also known as Case 3000.


South Korea was also disappointed that Israel refrained from congratulating the summit between South Korean President Moon Jae-in and North Korean ruler Kim Jong-un in April this year.

Another example of the Korean frustration is an Israeli claim that progress towards a free trade agreement to ease Israeli exporters operating in S.Korea is hindered by the Koreans who are dragging their feet, despite the fact that the deal has already been approved by various forums and has been waiting for South Korea's stamp of approval for more than a year.

Incidentally, South Korea voted at the 2017 UN General Assembly to condemn the US's recognition of Jerusalem as the capital of Israel.

In addition, Israeli officials were surprised by South Korea's rejection of Rivlin's visit since the president is considered a friend of South Korea, and even met with its largest corporations' CEOs in the past, during his role as minister of communications.

In contrast, senior Foreign Ministry officials say that South Korea's rejection, albeit unpleasant, does not stem from a crisis or tensions in its relations with Israel, which are still on good terms, but stem primarily from the fact that the Koreans are withdrawn and busy dealing with North Korea.

According to the Israeli officials, the two countries have wide security dealings. For instance, the South Korean airline operates direct flights to Israel and is interested in expanding them. Additionally, the countries are heading towards signing a free trade agreement.

The officials estimated that the refusal to accept Rivlin's visit stems primarily from the fact that the Koreans are entangled in themselves and in their contacts with North Korea.

Nevertheless, it appears that the efforts for intra-Korean reconciliation have not hindered Seoul in unrolling a red carpet for the visit of President of Turkey, Recep Tayyip Erdogan, in May.

Recently, Erdogan called on his citizens to stop buying smartphones from iPhone in protest against US sanctions, preferring instead Samsung's South Korean phones.

Despite South Korea's rejection, a senior Foreign Ministry official said that among Asian countries, South Korea is still one of Israel's closest friends, and suggested that, when considering the country's rejection, one should look at the broader picture.

The President's Office said in response that Rivlin would visit any destination in accordance with the political needs of the State of Israel and in coordination with the Ministry of Foreign Affairs.