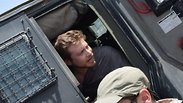 Breaking the Silence CEO detained in southern Mount Hebron
Photo: Breaking the Silence NGO
The border Police Force detained Friday for questioning the CEO of Breaking the Silence, Avner Gvaryahu, and two additional activists of the left-wing NGO— Ahiya Schatz and Michael Sfard—after they arrived at the settlement of Mitzpe Yair in the Mount Hebron area of the West Bank.

Gvaryahu, Schatz and Sfard were released shortly afterwards and are expected to give their testimony on the incident next week.

A Breaking the Silence bus arrived to the area to protest against the attack of the four activists from the Left-wing Ta'ayush NGO who were wounded Saturday in Mitzpe Yair.

After the activists encountered an IDF force that had closed the area under a special order, a confrontation erupted between them and the Border Police and IDF soldiers, resulting in Gvaryahu and the two activists being taken for questioning.

According to the West Bank police, the three were detained after violating a legal order.

Breaking the Silence issued a statement saying, "The detention of the organization's CEO Avner Gvaryahu, Ahiya Schatz and attorney Michael Sfard during an educational tour in southern Mount Hebron should worry all of Israel's citizens who value democracy.

"The Hebron brigade commander has given an incentive to the settlers who behave as bullies during an acquaintance and solidarity tour following last week's violent attack executed by settlers against the Ta'ayush NGO's activists," the NGO added.

"This is yet another unfortunate proof that the military has become the servant of the settlers and that they are the true commanders in the field," the NGO's statement concluded.

After his release, Gvaryahu said, "We are not going to give up and plan to tour southern Mount Hebron again soon. As opposed to the commander of the Hebron brigade who surrenders to the violence inflicted by settlers, we refuse to accept it."

Schatz added that "The police detained us without any reason, and we will not be silent about that."

"We'll not stop our tours and continue telling what we've been doing in the territories because this is our duty as soldiers who served there," Schatz went on to say.

Knesset member Mossi Raz (Meretz) who also took part in the tour said, "We arrived today at the violent settlement of Mitzpe Yair to protest against the settlers' behavior and the weak conduct of the police and the IDF while facing them."

"We witnessed how the army and the police follow their instructions detaining Breaking the Silence CEO and its two prominent activists," Raz elucidated.

"What happened here today is a disgrace. We encourage the human rights activists who come here every Saturday and they have our respect," he asserted.

"Someday the occupation will end," the MK concluded.