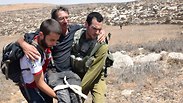 Left-wing activists wounded in Mitzpe Yair
Four left-wing activist from the Ta'ayush NGO say they were attacked Saturday in the settlement of Mitzpe Yair in the Mount Hebron area of the West Bank.

According to the activists, several masked Mitzpe Yair residents hurled stones at them. Suspects have yet to be detained.

The Ta'ayush NGO's members were lightly wounded and taken to the Soroka University Medical Center in Be'er Sheva for treatments.

The police said that according to a report from the IDF, four Israelis had arrived to Mitzpe Yair to take pictures.

"At some point, as reported by the activists, several masked young men arrived and began throwing stones at them and wounding them," the police said.

"A police force that was called to the scene launched an investigation into the matter," the police statement added.

The IDF said that "several Ta'ayush activists arrived this morning to the area near Mitzpeh Yair, where illegal Palestinian construction is taking place."

"After the security forces had confiscated the tools used for the illegal construction, the activists went up to Mitzpeh Yair in order to create a provocation, which led to a violent clash between them and the area's (Jewish) residents," the IDF elaborated.

"IDF soldiers who were at the scene declared the area a closed military zone in order to prevent further violence . However, some of the organization's activists refused to leave the premises in violation of the order applied to the area.

"After a while, the activists agreed to leave the area, ending the skirmishes," the IDF concluded.

Ta'ayush issued a statement on its Facebook page saying that "Jewish terrorists from the Mitzpe Yair settlement attacked four members of our organization by throwing stones and sticks at them.

"The soldiers present at the scene were scared to intervene. We are afraid to think what would have happened if the activists were Palestinians," the statement added.